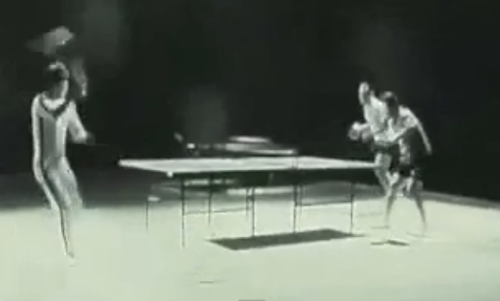 That's what David Biespiel is looking for over at The Rumpus. And he travels there by way of the Poets & Writers Tumblr page. For reals—check it out:
Who isn't a devotee of advice from writers about writing? One of my favorite books in this guilty-pleasure genre to come out lately is Dennis O'Driscoll's collection of witticisms and one-liners, Quote Poet Unquote: Contemporary Quotations on Poets and Poetry. And one of my favorite quotes is by Czeslaw Milsoz: "Poetry is a dividend from what you know and what you are."

Now, the Poets & Writers Tumblr page is doing one better: showing a photograph and a highlight of some usually interesting specimen of writerly advice. Full disclosure if you haven't noticed already: I confess, I love this kind of stuff.
Biespiel goes on to post a few zingers from the P&W page. Then he gets down to business.
I've been trying to think of a poem that resembles this amazing feat by martial artist Bruce Lee playing pingpong with nunchucks because this one video does what the O'Driscoll and the P&W site do also. What we're looking for here is a poem that exudes formal elegance and panache, physical prowess and concentration, range and definition. And: What we're looking for is the literary message that this mind-blowing artistry lends to poets.

The poem that comes to mind — for me, at least — is William Meredith's "The Illiterate." The poem is both heart-breaking and heart-warming. Like the Lee tape, it defies belief. Like the Lee tape, it bridges zones of perception between mind and consciousness to expose a single idea of perfection. (Friends, feel free to nominate your Bruce Lee inspired poem in the comments section.)

And so this is what I think Bruce Lee's advice to poets is: Like the accomplishment in the pingpong video, poetry must exude the impossible and reveal the practice that achieved it. Poetry must understate and overwhelm. Poetry must flash and entertain and, at the same time, defy your own eyes in the effort to reveal utter insight. In the effort to be, simply, utterance. The mind and music of the voice. The body and the nunchucks, one. The poet and the poem, one.
Now watch the master and learn from the master.
http://youtu.be/SncapPrTusA