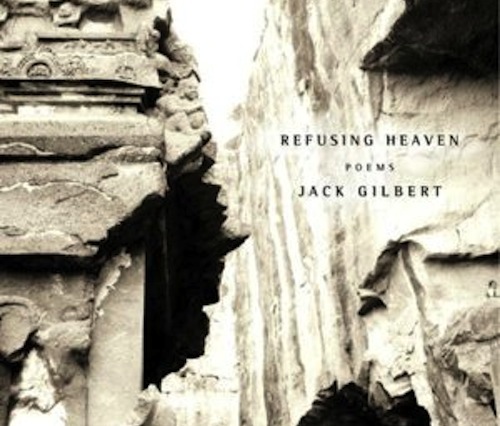 Over at The Paris Review blog, Drew Bratcher has a short and moving remembrance of Jack Gilbert, who died on Tuesday at the age of 87. Bratcher focuses on his experience reading Gilbert's Refusing Heaven, writing:
Gilbert's lines might have come from any continent in any century. They wouldn't have seemed so out of place scrawled on papyrus or etched in stone.

Every morning she was asleep in my bed

like a visitation, the gentleness in her

like antelope standing in the dawn mist.

Perhaps as arresting as the poems themselves was the fact that there were so few of them, three or four collections to speak of over the past half century, and decades of silence in between. As an aspiring writer feeling the pressure to publish, Gilbert's output, or lack thereof, was provocative, borderline maddening. But what he lacked in prolificacy he compensated for in rigor. Precision of experience was as vital as precision of phrasing. Poetry was something to unearth, not manufacture. "The hard part for me is to find the poem—a poem that matters," Gilbert explained in his 2005 interview with The Paris Review.
Make the jump to hear about Gilbert reading at the Library of Congress.