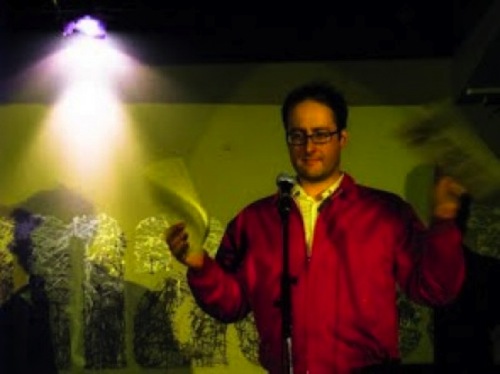 Just up, ducks, is the reading given by Keston Sutherland and John Wilkinson on November 15 for Berkeley's Holloway Series--Sutherland was in the Bay Area for the first time, so we hear. More about the authors, if you haven't had the pleasure:
Keston Sutherland teaches English literature and critical theory at the University of Sussex. He is editor of Quid and the Quid CD series and is currently editing the complete critical prose of J.H. Prynne. He has published numerous essays on poetics, politics and philosophy. Keston's poetry has been translated into French, German, English and Chinese, appearing in anthologies, journals and newspapers across the high art marginalese diaspora. He has given readings all over the world and is thus thoroughly metropolitan. He represented Great Britain in November 2005 at the French Biennale des Poetes at Val de Marne.

John Wilkinson is Professor of Practice in the Arts at the University of Chicago. Previously he worked for over twenty years in mental health services in England, before joining the Department of English at Notre Dame. This autumn Seagull Books publishes his new book of poetry Reckitt's Blue; other recent publications are Ode at the Gate of the Gathering (Crater Press 2011) and Down to Earth (Salt 2008). He has published a book of critical essays, The Lyric Touch (Salt 2007) and a number of subsequent papers on O'Hara, Schuyler, Guest, Oppen and Prynne among others.
Video below.
http://www.youtube.com/watch?v=U8UxioOblKU&feature=plcp