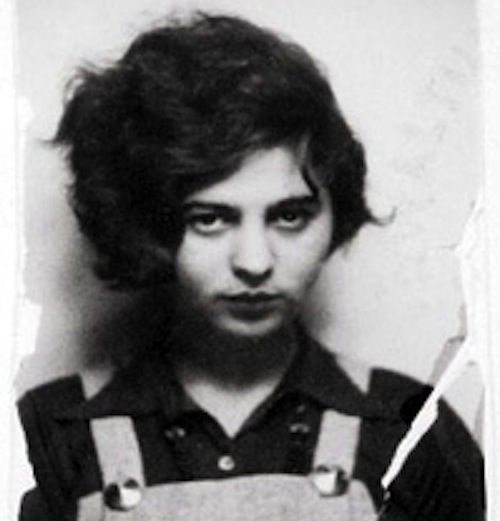 The Jewish Daily Forward casts some light on Mascha Kaléko, a little-known German-Jewish poet "born Golda Malka Aufen to a family which fled pogroms to Germany at the start of World War I." She eventually lived in Berlin, Hollywood, New York (Wikipedia has it that she lived on Minetta Street in Greenwich Village), and Jerusalem. Kaléko is the subject of a new biography of the poet by Jutta Rosenkranz; and it seems her work has gained in popularity among German readers since her death in 1975, though we are at somewhat of a loss as to the extent of its translation into English--who knows, perhaps one of you is working on it! Rosenkranz's publisher, DTV, has announced a call for letters, which should be revealing, at any rate: "Call for letters by Mascha Kaléko! The Deutscher Taschenbuch Verlag intends to publish a complete and annotated edition of works and all extant letters by Mascha Kaléko (1907-1975)." The only substantial volume of her work in English seems to be No matter where I travel, I come to Nowhereland: The poetry of Mascha Kaléko, translated by Andreas Nolte and published by the University of Vermont in 2010. But that's it--there seems to be one copy (to purchase) available--and she was prolific.
The Forward's Benjamin Ivry writes:
[Kaléko] grew up in an East European Jewish slum in Berlin, and in 1928 she married Saul Aron Kaléko, a Hebrew philologist. Her second husband was Chemjo Vinaver (1900–1973), a musicologist and conductor specializing in Hasidic choral works. During the late 1920s and early 1930s she briefly flourished as a public poet alongside such other German Jewish talents as satirist Kurt Tucholsky and Else Lasker-Schüler. Kaléko's colloquial, pointedly witty verse, some in Berlin dialect, won praise for its authenticity from such discerning readers as Thomas Mann and the Austrian Jewish wit Alfred Polgar (born Alfred Polak).

In 1938 she fled Germany for New York, and although she returned for brief visits after the war, Kaléko's poems subtly underline what had changed. Her 1956 poem "Germany: a Fairy Tale" (the title alludes directly to Heine's satirical "Germany: A Winter's Tale" and its recurrent themes of the agony of exile and longing for a lost land). "Germany: a Fairy Tale" observes that by the late 1950s, Heine's posthumous fate had improved. During the Nazi era, his memory had been effaced in publications which were obliged to reprint his poems since they had become an essential part of German language and culture, but instead of attributing them to a Jew, the Nazi-approved publishing houses ascribed them to anonymous folklore. Responding to this notorious attempt to destroy all memory of her favorite author, Kaléko ironically notes that during the 1950s in Germany, Heine's "name is slowly getting familiar./ In books, 'Heinrich Heine' is cited/ and not 'Unknown Author.'" English-language readers deserve a book-length translation of Kaléko's appealing verse, which would make her less of an unknown author.
They link to a reading by Kaléko here; and a more complete bibliography here. A slightly more thorough piece on Kaléko's life is here.