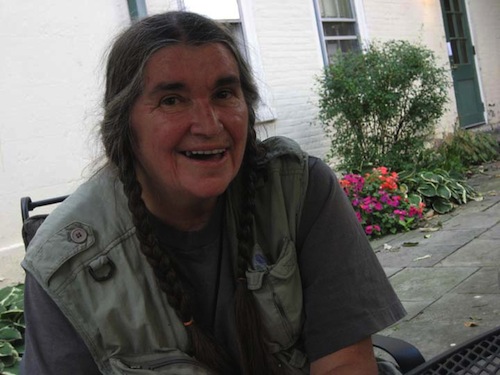 All you lucky ducks in Lenox, MA are (well) lucky! Don't miss Bernadette Mayer reading from her beloved Midwinter Day with Peter Gizzi tonight at The Bookstore. Mayer's book "chronicles her experiences on Dec. 22, 1978, moves through the day in details of what happened near 100 Main St., just down the street from [The Bookstore]." As the Berkshire Eagle reports:
[Mayer] and her friend the local poet Peter Gizzi, will read new work at The Bookstore at 7 tonight, and Tannenbaum [owner of The Bookstore] couldn't be happier.

"They're both amazing writers that just seem to know how to draw audiences in," he said. "People show up to listen to them read like they did when (Allen) Ginsberg would perform back in the 1960s."

Gizzi, a literary professor at the University of Massachusetts at Amherst, has just finished his latest collection, "Threshold Songs," which juxtaposes a "transcendental vision of the world filled with mystical New England perspective" and his grief at the loss of loved ones.

Recently Gizzi's mother, older brother Michael, and a dear friend all died, and his poems are filled with the thresholds that people stand on both literally and figuratively, Tannenbaum said.

During the reading Peter's brother, Tom Gizzi, will provide guitar interludes, as he does in most of Peter's live performances, Tannenbaum said.

"We're extremely lucky to have them here," he said. "The two friends always put on a wonderful show."
More information on the reading can be found at The Bookstore's website. And for more on their shop ("the New England City Lights"), check out this post by Michael Schiavo at the Best American Poetry blog.