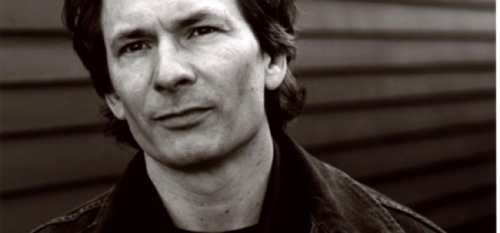 We wanted to point you to this tight ditty from The Volta's "Take Down the Clouds" series: 7 questions with Forrest Gander. Here's a slice:
1. Where are you now?
I'm in my office at Brown, just after a reading by the Canadian writer and translator Erin Moure, looking at your email as the last of the day's light thunks through the window onto my rock collection.
2. What are you working on and what have you got coming out?
What's just out are two books: Watchword, poems by Pura López Colomé. This book won the Villaurrutia Prize, Mexico's Pulitzer. And Redstart: An Ecological Poetics, a mixed genre collaboration with Australian poet John Kinsella. I'm at work on a big anthology, 15 Essential Poems from Latin America, selected by Raúl Zurita. And I've enlisted some hot Japanese translators to help me put together Alice, Iris, Red Horse: Selected Poems by the great avant-garde poet Gozo Yoshimasu (http://forrestgander.com/Gozo-yoshimasu.html)
3. Where do you write?
Almost exclusively at my desk in the barn at home. Where I never, fucking alas, am.
4. What's the last best thing you've read?
Have you ever read a book so astonishing, so unforeseeable and breathtaking that you hesitated to tell everyone about it? Maybe once every twenty years, right? I just read one. (Published in German in 1945, mixed genre). But I only want to share it at the intimate level. Otherwise, and really good: Kurt Beals' translation of Anja Utler, Engulf- Enkindle. Dan Beachy-Quick's Circle's Apprentice. Elizabeth Robinson's Counterpart. And Lucas Klein's translation of Xi Chuan, Notes on the Mosquito.
Make the jump and read the rest!