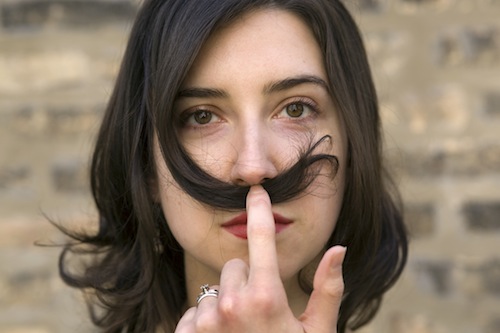 Head over to The Nervous Breakdown for this interview with Kathleen Rooney author of, most recently, Robinson Alone, which takes Weldon Kees's "Robinson" poems as a starting point.
A sample:
Why are you planning on doing most of your readings for this book in costume/drag?

Kees was a meticulous dresser, and so is Robinson—both seem extremely conscious of how they look not only to themselves but especially to other people. Also, Kees had a very let's-put-on-a-show spirit; he was a sometime jazz musician and actor in addition to his many other creative pursuits, and one of his last major undertakings prior to his disappearance was putting together a literary burlesque show called The Poets Follies in San Francisco. Because I am trying, in the poems, to channel Kees and Robinson on the page, it seems fitting also to try to embody them a bit in the readings.

Currently, I'm teaching a workshop called "Writing the Body," and one of our frequent topics of discussion is how readers and writers can feel as well as think—a book we read that's great for promoting that attitude is CA Conrad's A Beautiful Marsupial Afternoon. We talk a lot about empathy, and how sometimes that means metaphorically putting yourself in someone else's proverbial shoes, but it can also mean actually putting yourself in their mustache, their trousers, their topcoat, their tie.

Speaking of embodiment, what did Weldon Kees smell like, do you think?

I'm glad you asked about smells. My friend and writing partner Elisa Gabbert is a genius of perfume—check out her "On the Scent" column at Open Letters Monthly. By way of her initial encouragement and recommendations, I too have "gotten into" perfume, although I'm nowhere near the expert that she is. I suspect that Kees smelled like cigarettes, definitely, and probably an ever-changing balance of enthusiasm and anxiety. But also bergamot, pepper, rosewood and amber. Kind of like Bvulgari Pour Homme, maybe? Only more mid-century somehow.

Whose Google Alerts would you like this self-interview to set-off and why?

Elisa Gabbert for the reasons listed above; James Reidel for writing Vanished Act, his wonderful biography of Kees; Donald Justice if he were still alive and had a Google Alert for bringing Kees back into print by way of The Collected Poems; Eric Plattner for the cover photograph as well as the author photo on Robinson Alone; Mitchell Rathberger for making the book trailer (he set a couch on fire!); Hannah Rebecca Gamble who will be reading with me at Women & Children First in Chicago on Friday, November 2; Christian Hawkey for his book Ventrakl, which I read and loved as I was putting the finishing touches on Robinson Alone; Martin Seay for all his feedback on everything, always; Kate Clanchy for introducing me to Weldon Kees (by way of Simon Armitage) over 12 years ago in the UK and getting this whole project started; and Virginia Konchan for talking with me about citationality.

Citationality—what is that?

It's a term from literary theory—especially from Derrida—meaning one author's citation, or quotation, of another author's—or bunch of authors'—work. Robinson Alone is super-citational. In some cases, like the fifteen first-person centos that appear throughout the book, the citation is direct and in others it is indirect. But Robinson Alone essentially couldn't exist without allusions and quotations not only from Kees' creative output, but also his reviews, his letters, and his stories.
Get the full goods here.