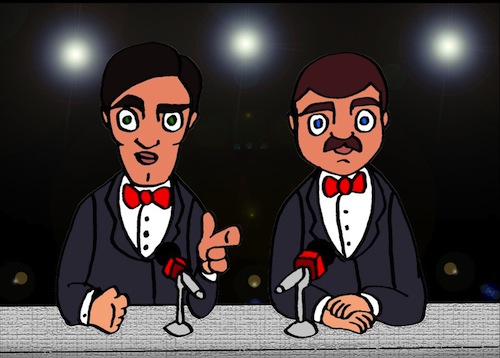 Maybe, just maybe.
From The Daily Beast:
The self-appointed stage mom/pimp to the world's literary stars, Zuniga began rolling out his plan for world literary domination in 2006, teaming with then-girlfriend Elizabeth Koch and friend Dennis DiClaudio for an event in New York that would pit writers against one another in a drinks-fueled, tongue-in-cheek talent competition to be judged by name authors, editors, and pop- cultural figures.

More importantly, it would "mix a bunch of people together—actors, writers, and musicians in one room," Zuniga explains, "so that people don't just have boring literary babies."

In the years since that first barroom show, Zuniga has exported the format to 46 cities around the world, from London to Oslo to Shanghai to Tulsa, and roped in the likes of Tom Perrotta, Jeffrey Eugenides, Chuck Palahniuk, and Daniel Handler. To date, LDM has lured a combined audience of 35,000 people. TV seemed a natural step.

And so, last night 350 LDM loyalists descended on Hollywood's Florentine Gardens to witness Zuniga's 258th installment, a taped double bill built on the following premise: if you put them in a boxing ring, hang microphones from the ceiling and add witty commentary and famous people, they will watch.

The pilot is being funded in part by a Kickstarter campaign that raised $11,000. "One cameraman who would usually charge a lot of money said he would do it for free and bring an assistant if he could get a photo of (LDM judge and Dexter star) Michael C. Hall choking him for his Christmas cards," Zuniga says.
Full article here.