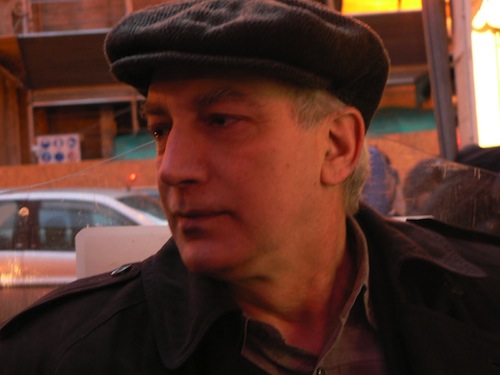 Good news over at EPC, where an author page has been created for James Sherry--poet, editor, publisher and founder of Roof Books (née 1976, with Roof Magazine) and the Segue Foundation (1977). Online works there include complete PDFs of early work: Popular Fiction, Converses, In Case, and Part Songs; and Sherry's reviews of The Grand Piano collective autobiography project are there, too.
Also up: links to Sherry's PennSound page and the full recordings of the Segue Reading Series (with exceptions)--from its time at The Ear Inn, to Double Happiness, to the Bowery Poetry Club, up to the present (it's now at held at the Zinc Bar in NYC on Saturdays, co-curated by rotating duos of poets).
Sherry recently penned this essay on the history of Roof for their 35th anniversary celebration last month ("I could sell a piece of paper for a penny but if I printed a poem on it, I couldn't give it away"). A bit more from that:
...For the second issue of ROOF, I put out the word that I was publishing new writing by new writers. Charles Bernstein visited me for a chat and left me with the worrisome compliment that I had my head on straight. I mean who in their right mind would want to start a not-for-profit publishing venture. But we were all moving in that direction. ROOF 2 contained Bruce Andrews, Charles Bernstein, Hannah Weiner and others of what was to become the Language coterie. Soon after I published the third issue of Roof when we all sat on the floor at my house mailing flyers, Charles and Bruce started a new magazine and we all moved to Charles' house on 83rd St to mail out L=A=N=G=U=A=G=E: Diane Ward, Hannah Weiner, Alan Davies, Michael Gottlieb, Nick Piombino, Peter Seaton, Ray DiPalma and others. While snail mail was still the main distribution strategy, the energy of the moment had swung decisively from a simplified prosody with political or personal content to a more complex, considered and political prosody.

The tendency included a group of about 10 poets in NY, 15 in the Bay Area, 5 in DC and a few others scattered about the country and in Canada. We began to read each other in a different way than we read any other poetry.

[...]

We published ROOF, L=A=N=G=U=A=G=E, This, Hills, and Sun & Moon to promote this variety of approaches. People began to derisively call language writing a school and attack both its methods and its politics, but it was clear that most, not all, of the talented younger writers were interested in these issues either as an option or a threat. It was also apparent that there were as many ways to do what Ron Silliman called the writing "of which we speak" as there were people to write it. I reveled in the diversity.

As a publisher, I realized early on the negative economy of poetry. I could sell a piece of paper for a penny but if I printed a poem on it, I couldn't give it away. Nevertheless I began to publish longer sections of people's work at the same time that the poets were writing longer pieces. Roof also began to accept the Bay area conundrum and printed poets as Bruce first suggested grouped by geography. In 1979, after 10 issues of ROOF Magazine, the last five co-edited with Michael, I began to publish books starting with [Charles] Bernstein's Controlling Interests, and Hannah [Weiner]'s Little Books/Indians.

Since then Roof has published over 120 books including many by the language group and some by others who were contributing to the scene like Madeline Gins, Jackson Mac Low and Edwin Torres. As language writing began to transform or become accepted and as language writers started writing otherwise, I began to look for other strategies. I saw manuscripts that worked with electronic media in various ways like Brian Kim Stefans, flarf writers like Nada Gordon, Drew Gardner, Gary Sullivan and Kasey Mohammad, conceptual strategies by Rob Fitterman and Vanessa Place, and several people writing about the writer's relationship to the rest of the planet like Evelyn Reilly and Kim Rosenfield. And now other strategies are emerging from writers like Trisha Low, Holly Melgard, Lanny Jordan Jackson, William Andrew Sterling, Brandon Brown and who knows what else I'm missing. I'm sure there are more amazing writers tapping frantically on their new ideas as I speak....
Sherry's own work includes over 10 books of poetry and prose. So happy reading!