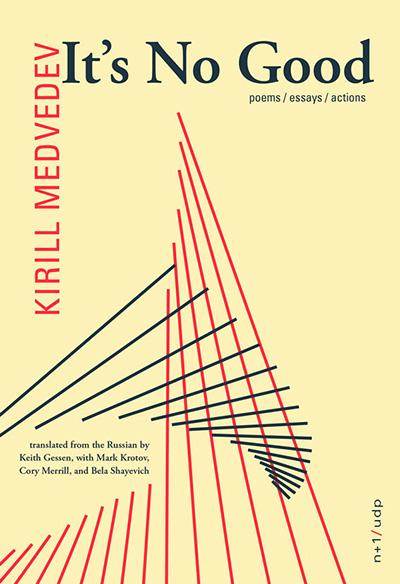 So worth a read: Four poems at n+1 from It's No Good, a new book out from n+1 and Ugly Duckling Presse by contemporary Russian poet, translator, political activist and essayist Kirill Medvedev, edited by Keith Gessen, with various translators. An excerpt:
just a little bit more about literature:
I've always been really interested
in a particular type of poet
it's a pretty well-known type:
fair-haired guys
who arrived in moscow
starting in the '30s
enrolled at the Lit Institute1
raged through its dormitories
they were from the provinces
these were some very cool dudes
masters of nostalgia
and enigmatic fools;
I think the demand for them
was huge
because to the aging poets of the capital
they appeared as
a living conscience
their living conscience [...]
And a bit about the book:
Edited and introduced by Keith Gessen, It's No Good includes selected poems from Kirill Medvedev's four books of poetry as well as his most significant essays: "My Fascism" (on the failure of post-Soviet Russian liberalism, politically and culturally); "Literature and Sincerity" (on the attractions and dangers of the "new sincerity" in Russian letters); "Dmitry Kuzmin, a Memoir" (a detailed memoir and analysis of the work of the 1990s Moscow poet, publisher, and impresario Kuzmin, and what his activity represents). This will be Medvedev's first book in English.