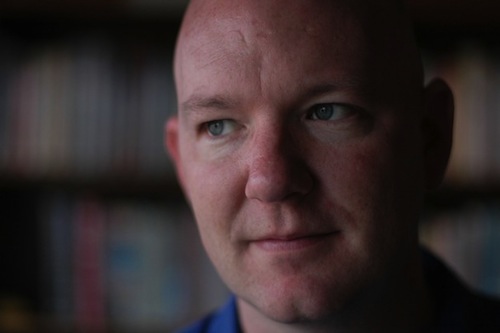 Here is an obituary and remembrance of Jake Adam York posted by David Biespiel at this week's "Poetry Wire." Biespiel begins with a loving reflection on York. Then, a great number of writers (with encouragement of others to follow-up in the comments) add their own personal remembrances. It's a beautiful, collaborative eulogy.
Biespiel opens:
Sunday brought the sad news of the death by stroke of the poet Jake Adam York. He was 40-years-old.

Born in 1972, a fifth-generation Alabamian, York was one of those poets who inspired so many other poets, especially his peers — through his writing, certainly, but also through the way he lived in the world. And here I want to get the emphasis right — the way he lived in the world as a poet. Lived in the world as a poet in a manner that his very living inspired others to want to honor what he honored. That is, honor both poetry and the world from which it is brought forth into language, into life.

I say that, but the truth is I actually didn't know Jake Adam York. We never met or corresponded, which for many poets is our prime means of literary friendship and comradeship. I did know, to some degree, his poems, which can be found in three books: Murder Ballads, A Murmuration of Starlings, and Persons Unknown.

From where I sit, as a reader only of his poems and now, to be honest, in passing, of his life, I want to say that two of the most distinctive features of his writing are this: his poems have an infectious warmth and a tenacious sense of fairness and recovery. His poems are generous and inviting, as opposite of fadish, quirky, or laconic as you can find. Which is to say, he is a poet of the ode — a poet who praises and celebrates, perhaps lauds is the better word, and recognizes what he sees even when the recognition is difficult and evolves, as sometimes occurs, into elegy.

By all accounts, these same traits define the character of his life as well. He was a fixture, a creature, of the annual AWP creative writing convention, and beloved among his literary friends.

As a fellow white Southerner, I also admired York for his dedication to social justice. His legacy includes a dynamic interest in the Civil Rights Movement. He possessed clear insight and passion and reflection on the subject of race — both in the South on account of our historically troubled history and across the nation on account of our more prevailing one. What I have witnessed of York is that he was a poet who valued highly his role as a poet, both when he was actually composing a poem (naturally), but also when he was engaged in the civic and political obsessions outside of his art that he took up as a poet — and in the ways he integrated the two. He was a poet who both made and represented poetry. I admire that.

Also, again, as a fellow Southerner, if I may, I truck with him with what appears to have been an abiding love affair with the ancient art of barbecue, for surely Jake Adam York understood that if you give a man barbecue, you feed him for a day. But if you teach a man to barbecue, you feed him for a summer.
Make the jump for much more.
University of Colorado Denver posted a remembrance of York on their website, stating, among other things:
Jake expressed the generosity of his spirit in many ways, including the great joy and pride he took in his work as a literary editor. He regarded the cultivation, publication, and celebration of the work of writers he admired to be a profound responsibility, and many times remarked how much this work defined him as a person. He passed this sense of dedication to the written word along to countless students over the years. Such students could always be found in his office, receiving encouragement, advice, gentle teasing, and innumerable reading recommendations from Jake's encyclopedic memory. Once, when a student asked Jake for the definition of poetry, he responded with one word: "Yes." It is that spirit of affirmation that encapsulates who Jake was as a teacher and a writer.

Jake was also a deeply conscientious citizen of the university. He worked tirelessly on committees at the departmental, college, and university level, and served as a valuable mentor to numerous junior faculty. He brought a galvanizing energy to the Department of English, and viewed its commitment to language and literature as a serious ethical obligation to the university community and the world at large.
Full remembrance, plus memorial details, here.