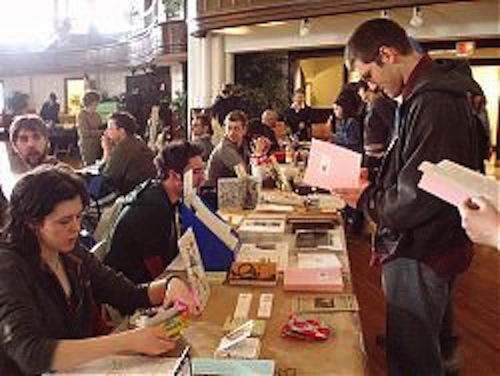 It's official. 2013 vendor applications are now open for the 2013 Buffalo Small Press Book Fair. What's it all about? This:
Do you make your own books, zines or art?
Do you run a small press or bookstore?
Do you make something bookish or book-like?
If you answer yes to any of the above questions (or have your own great DIY idea that fits our event), then the Buffalo Small Press Book Fair would like to hear from you! We're looking for folks to peddle their wares, share their art, and much more. The more participants we can get involved in the event, the greater impact it will have on the Buffalo region art scene and DIY culture.
And here's a little more about what it's all about:
Buffalo Small Press Book Fair April 6th 12pm-6pm and 7th 11am-4pm

The Buffalo Small Press Book Fair is a regional two-day event that brings booksellers, authors, bookmakers, zinesters, small presses, artists, poets, and other cultural workers (and enthusiasts) together in a venue where they can share ideas, showcase their art, and peddle their wares.

The 2013 event will take place on Saturday, April 6th at the Karpeles Manuscript Library Museum from noon to 6pm AND April 7th from 11am-4pm. Remember this event is FREE and open to the public! Get directions to the event.

For the first year ever, we will be hosting the book fair on two separate days. Its incredible growth has continued, and it made it necessary to expand the fair so that more artists and audience members can experience the event.

The Buffalo Small Press Book Fair would like to acknowledge generous help from Just Buffalo Literary Center, the Western New York Book Arts Center and the New York State Council on the Arts.

In 2012 we had over 115 vendors and over 3000 participants!
Oh, Buffalo. Come for the weather, stay for the poetry!!