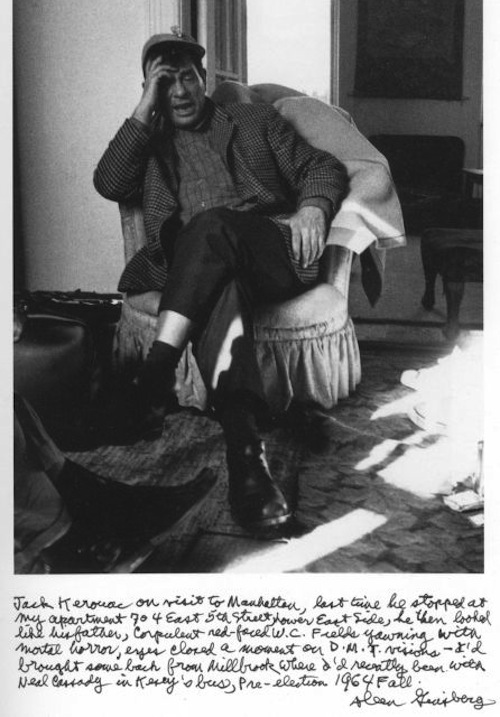 Over at the New York Times, Ken Johnson reviews "Beat Memories: The Photographs of Allen Ginsberg" at the Grey Art Gallery and is more or less unimpressed with Ginsberg's photographic works. Sure, Ginsberg's a great poet, says Johnson, but "The best you can say about the pictures Ginsberg took during two periods in which he dabbled in the medium — the '50s and early '60s and the '80s and '90s — is that they are the works of a competent amateur." Here's more:
From the early 1950s to about 1964, Ginsberg regularly used a cheap camera to take snapshots of his now famous pals, including the writers Jack Kerouac, William Burroughs and Gregory Corso, as well as Neal Cassady, their logorrheic muse. Knowing that these young bucks were reanimating American literature and sowing the seeds of a broader cultural revolution makes them riveting to look at. But considering the incendiary stuff they were writing — "Howl," "On the Road," "Junkie" — and their bohemian lifestyles dedicated to the pursuit of sex, drugs and jazz, the photographs are remarkably tame.

Almost all are affectionate, more or less straightforward portraits made indoors and out. Many have a subtly playful spirit, like one of the poker-faced Burroughs standing next to a stone chimera in the Egyptian wing of the Metropolitan Museum of Art in 1953 — "a brother Sphinx," Ginsberg notes in a caption handwritten on a later print from the original negative. But whatever embarrassing or illicit behavior was going on in Ginsberg's circle he left off camera.
Despite Johnson's chilly reception of the exhibition as a whole, he is charmed by two photos:
Two pictures from 1964, however, are especially resonant historically. One shows Cassady lying in a bed, staring upward next to a woman who is languidly smoking a cigarette. Sunlight pours in through windows at the foot of the bed. They are at Millbrook, the New York estate that Timothy Leary and his fellow psychedelic explorers occupied at the time.

[...]

The other image from 1964 shows a prematurely aged, grumpy-looking Kerouac slumped in an armchair on the last day he ever visited Ginsberg in Manhattan. The caption says that Kerouac is on DMT brought back from Millbrook, which explains why he is "shuddering with mortal horror." Seeing these two photographs together is like beholding both sides of the future of the psychedelic revolution. First there would be peace and love at Woodstock, then the major bummer of Altamont.
Well, if Ginsberg isn't at the tops as a photographer, we guess he'll have to settle for being only a great poet. Poor Ginsy!