Categories
Follow Harriet on Twitter
About Harriet
Blogroll
Heather Christle's Dream Home Features Ben Hersey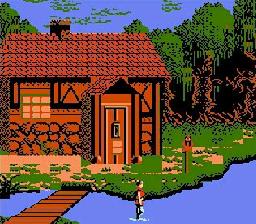 Heather Christle is this week's featured blogger over at Best American Poetry. In a recent post, Christle opens up about tunneling back into nineties' computer-game mainstay King's Quest V, Absence Makes the Heart Go Yonder (we played it too!), but perhaps even more remarkably, she introduces us to the Western Massachusetts poet and performer Ben Hersey, who seems to have everyone from the Four Horsemen to Steve Benson to Andy Kaufman in his pocket. "Ben Hersey, one of the performers I most admire, has an incredible sense of patience, an awesome ability to wait for words to show him how they want to change even as he speaks them. You can see what I mean in this performance, beginning just before minute 7 (though I recommend watching the whole thing, of course)," writes Christle. "If you get through to minute 14, Ben bursts into something like song–which is what I feel like doing when watching him perform. Imagine if you discovered a room in your house with this man in it! That would be a dream home." We also recommend a full watch:
Tags: Ben Hersey, Best American Poetry, Heather Christle
Posted in Poetry News on Friday, January 18th, 2013 by Harriet Staff.