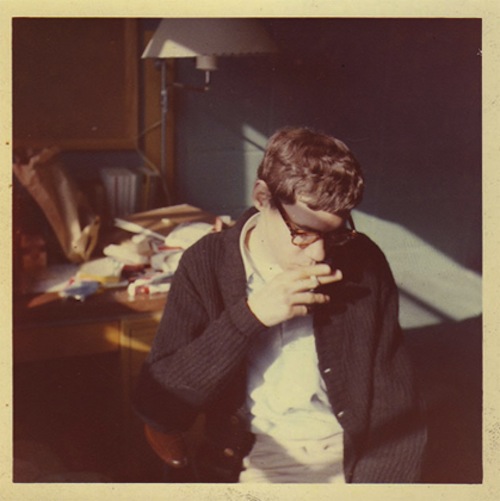 Matt Wolf, a Brooklyn–based documentary filmmaker recently completed a short filmic portrait I Remember: A Film About Joe Brainard. Brainard was a visual artist and poet whose collages and drawings often engaged with popular culture and emphemerality. Among poets, he is best known for I Remember (1975), a long, lyric prose-poem. On Artforum, Wolf describes how he'd been exploring PennSound and happened upon some recordings of Brainard reading from I Remember:
I love I Remember because it gives me an immediate and visceral sense of Joe Brainard's  humor, self-deprecating personality, and his gentle demeanor. And hearing Joe's voice only deepens those impressions—it kind of made me fall in love. I wanted to make something that would add context to these recordings. Something that isn't just a nostalgia piece or a straight documentary.
In order to research Brainard's life and work more, he turned to a biography written by his close friend Ron Padgett. Wolf describes Joe: A Memoir as being incredibly moving. "To be honest," he writes, "I think it's the most vivid account of a friendship that I've ever read." Wolf contacted Padgett to interview him, and Padgett helped Wolf gain access to materials for the film. But the film got the additional support it needed when Nathan Lee, a curator at Bard's Center for Curatorial Studies, asked Wolf to do a project. With the help of a sound designer, Wolf edited the film into a lyrical conversation between Brainard and Padgett.
There was also a complexity to what they were talking about that needed to be creatively illustrated. I started experimenting with dozens of films from the National Archives in Washington, DC, one of my main sources for Teenage. I have a collaborative relationship with a full-time archival researcher there named Michael Dolan. I give him themes, specific images, and ideas, and he sends me films. And when I watch them, I discover unexpected imagery that pushes me in new directions. These are usually government-produced newsreels and educational films, but they star real people, and for my purposes usually teenagers. I like to transform these stock subjects into loose characters. For I Remember I use several of a boy in an educational film about syphilis. He became an avatar for Joe, you could say. I've mixed these films with numerous photos and some beautiful 8-mm films that Ron created with Joe and other friends in their early twenties.
Wolf describes his film as a bridge bettween making a queer "biography and an archival meditation about adolescence and coming of age":
In a way, I think of the film as a gay-straight guy buddy movie. I think that's an interesting social dynamic, which hasn't been explored much in film. I know Ron is not keen to canonize Joe as a "queer" artist or icon. Nonetheless, a lot of young gay people like myself are interested in exploring the biographies of gay artists who died in the early '90s from AIDS––to reclaim that history, I suppose. Joe is an important, and often overlooked, part of that story.
You can watch a preview of I Remember: A Film About Joe Brainard on the film website.