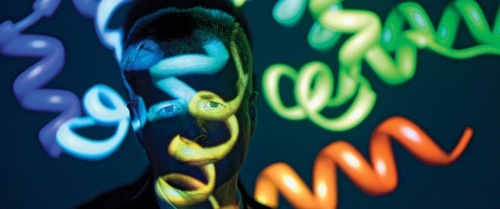 Photograph by Chris Bolin (via Maclean's)
For the past eleven years, Canadian poet Christian Bök has been working on a project called "The Xenotext." Maclean's summarizes the process:
A short stanza enciphered into a string of DNA and injected into an "unkillable" bacterium, Bök's poem is designed to trigger the micro-organism to create a corresponding protein that, when decoded, is a verse created by the organism. In other words, the harmless bacterium, Deinococcus radiodurans (known as an extremophile because of its ability to survive freezing, scorching, or the vacuum of outer space), will be a poetic bug.
Bök's project is fascinating, but we are thoroughly entertained by the way the author describes Bök as "the antithesis of the beatnik poet (he prefers expensive Canali suits to corduroy, and drinks scotch, distillers edition)." We remain fond of beatnik poets and corduroy, but we also love the idea of a poetic bug.
The book version of The Xenotext, due as early as 2014, will include a slide containing the bacterium as well as essays and poems about the project. Until then, you can read more about the project in Maclean's.