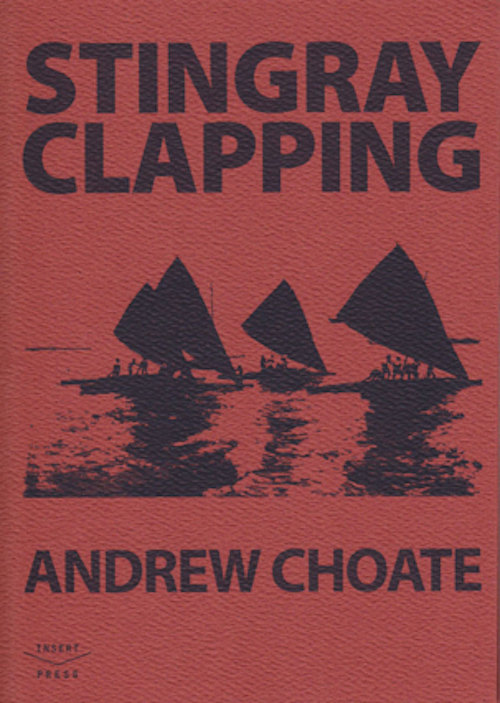 We've been a fan of Los Angeles-based Insert Blanc Press for some time, especially their Parrot series as well as the Blanc Press imprint, which includes Vanessa Place's Tragodía Trilogy, Katie Herzog's Object Oriented Programming, and Joseph Mosconi's forthcoming Fright Catalog.
Andrew Choate's Stingray Clapping (mentioned previously here) is the newest publication from Knock-Out Editions, the newest imprint from the press. According to Nancy Fumero's review in The Rumpus, it is a "thrilling" and enigmatic" collection:
Mostly, it is hilarious. Each phrase reads like a malapropism, one so confidently dispensed it seems already a part of everyday use. The familiarity is eerily gripping. Particularly in how one can completely understand something that makes no sense.

Maybe the book's phrases such as "conscious credit" or "witness biscuit" will never come into popular, idiomatic use. But too, these bemusing provocations, substantiated through alliteration and assorted rhyme schemes, amount to something greater than fanciful lyricism and arbitrary juxtapositions.
Check out the rest of the review in The Rumpus, or order the book directly from Insert Blanc Press.