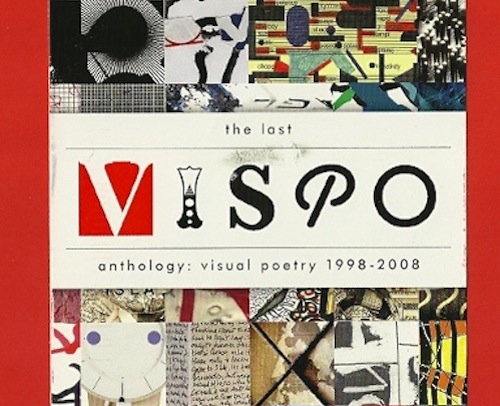 A recent review of The Last Vispo Anthology: Visual Poetry 1998-2008 in Eoagh by poet and filmmaker Alison Watkins prompted us to finally spend some quality time over the holidays reading/looking at this gorgeous and timely compilation. Edited by Nico Vassilakis and Crag Hill and published by Fantagraphic Books in Seattle, the anthology captures (as Watkins puts it) "the explosion of visual poetry that surfaced as the result of computerization and digitization intersecting the humanities in the decade between 1998-2008." In particular, Watkins's review notes how the anthology highlights the way the digital and computerized tools of visual poetry are transforming not only visual poetry, but how we experience all poetry:
Even as digitization and computerization in literature become ongoing certainties destined to change the nature of reading, of writing, and ultimately of language itself, so too does visual poetry's current revival contribute largely to those ends. Vassilakis and Hill have taken a snapshot of Vispo at a moment in time when typography, space, composition, rhythm, the color and surface of language, even the foundations of language have become more visible, more momentous, while at the same time words have been set free of their relationship with letters. Letters have detached themselves from print's linearity, and re-associated with space and scale and design, with dimensionality. The alphabet is reinventing itself by way of visual poetry, and in this anthology of creative work and creative essays about what's going on in visual poetry, Vassilakis and Hill observe, collect and codify the spectacle, while posing appropriate questions, and making grand gestures toward understanding.
A 35-page excerpt of the anthology is available from Fantagraphic Books. We also recommend checking out the anthology's very extensive website.