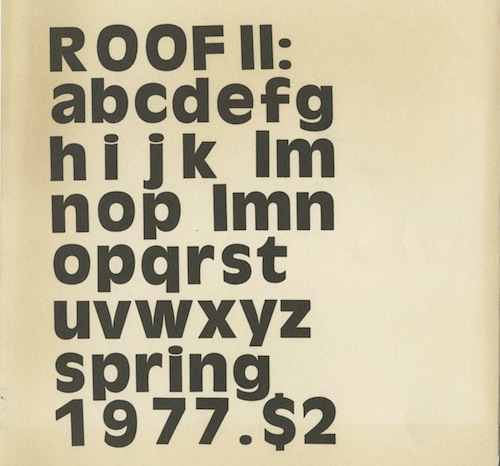 "After several months of scanning, editing, cataloging," says reissuer extraordinaire Danny Snelson, "the complete set of ROOF magazine (ed. James Sherry, 1976-79) is now available for yr downloading pleasure on Jacket2." We got some fine reading ahead of us: John Ashbery, Ted Berrigan, Diane Wakoski, John Giorno, Ed Sanders, Anne Waldman, Peter Seaton, John Yau, Charles Bernstein, Steve McCaffery, Tina Darragh, Anselm Hollow, Ted Greenwald, Mei-mei Berssenbrugge, Rosmarie Waldrop, Lyn Hejinian, Diane Ward, and more amazing of that ilk (even Stephan Mallarmé!), if you can stomach it, are all included in this goldmine.
Founded in 1976 by James Sherry to anthologize writing by poets working at the Naropa Institute, Roof magazine played a key role in the development of Language poetry. Ten issues were published in New York City between the summers of 1976 and 1979. The magazine was designed by Lee Sherry in uniform white with blocks of delicately askew Antique Olive Black "press type" neatly filling the large format 8.5" by 11" dimensions. As individual poets are given larger portions in successive issues, the reader can follow Roof's transition from the magazine to the Roof Books platform still publishing great works of poetry today. The cornerstone to Sherry's Segue Foundation, Roof magazine charts "the best in language" at this crucial turning point in twentieth-century poetry. Edited by Sherry alongside associate and coeditors Tom Savage (Nos. 1–3, contributing throughout), Vicki Hudspith (Nos. 4–5), and Michael Gottlieb (Nos. 6–10). From New York City to the Bay Area and Washington DC, the magazine houses an emerging community of writers in the late '70s for a fantastic — and remarkably focused — set of poetic explorations.

Full issues are available for download or browsing [here]. The index to each issue attempts to retain the formatting of the contents as printed in the magazine, including original pagination. Each PDF is fully searchable and bookmarked for easy navigation to individual pieces within the magazine. This reissue is edited by Danny Snelson with support from Craig Dworkin and the Kelly Writers House. This reissue is presented in partnership with the Eclipse archive.
The complete set is available for download here.