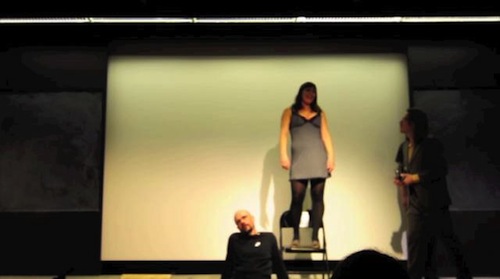 It's time to buy tickets for the 12th Annual Poets Theater, hosted by Small Press Traffic on January 18th and 19th at CounterPULSE in San Francisco. Although information is not yet posted on the Small Press Traffic website, we're told that this year's festival promises to be amazing. According to the press release, the audience can expect "boundary-breaking, genre-bending collaborations between writers, filmmakers, and visual artists" and "abundant humor, a carnival atmosphere, and plenty of audience participation." The lineup includes:
Ish Klein's new translation of the Faust Puppet play, directed by local legend Kevin Killian, who staged works of Poets Theater as part of SFMoma's Stage Presence Performance series in 2012

Dorothy Trujillo Lusk's staged response to the disappearance and murders of women in poverty and sex trade workers throughout the world, using language from Oliver Twist

A collaboration between San Francisco painter Mary Burger and writer Yedda Morrison: a choral rendering of an uncultivated patch of San Francisco landscape

Poets' Theater 2012 also features works by: Will Alexander, Stan Apps, Amy Berkowitz and Zoe Tuck, Lindsey Boldt and Steve Orth, Jen Currin, Julie Lythcott-Halms, Kate Robinson, and Avra Spector.
As we move closer to the 18th and 19th, we'll be posting an update or two with more detailed information on the schedule and plays. Until then, check out the Poets Theater Vimeo channel for examples of plays at past Poets Theater festivals.
And for those not familiar with Poets Theater, it's is an annual festival in which innovative works are performed, enduring avant-garde plays showcased, and the boundaries of theater generally jostled by artists and writers in collaboration. The audience should come expecting to be weirded out, dazzled, riotously entertained—and for their ticket price they'll support one of San Francisco's longest-running and most influential artist-run organizations, Small Press Traffic.
Now for the hard deets:
WHEN:
Friday and Saturday, January 18th and 19th 7:00 PM

WHERE:
CounterPULSE, 1310 Mission St. San Francisco, CA 94103

ADMISSION:
$20 at the door or purchase tickets in advance at counterpulse.org.