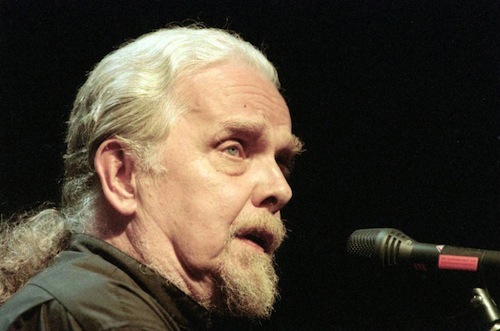 As promised (and expected) more remembrances and tributes to Anselm Hollo, who died this week, are pouring in. We wanted to draw your attention to this tribute by Tom Raworth in the Independent. Raworth reminds us of Hollo's place in the world of letters, a place that spanned national and linguistic borders:
Anselm Hollo was a major poet, a prolific and fine translator and an inspiring teacher. His death is a loss to the world of letters and intelligence. He was born in Helsinki five years before the Winter War into a cosmopolitan and intellectual family. His professor father translated Cervantes, Dostoevsky and Henry James into Finnish, his mother taught music, his grandfather Paul, a chemist, invented the Walden Inversion. A visit to him in Germany as a small child left Anselm the memory of walking past Hitler's Reich-Chancellery. The home language was German. His sister taught him Swedish, his father Finnish, and by his early teens he was fluent in English and French.
Raworth goes on to describe how Hollo found a home in the US and strove to bring new American writing to an international audience, while educating younger writers in the US.
Although a small book of poetry had been published in Finnish Hollo decided that English would be his writing language. Poems appeared in the few small magazines trying to let a little light and air into the British poetry gloom. His first English books were published. By the mid-1960s he, his poetry and translations, were central to a shift in mood. He translated Brecht, Klee and young Russian poets into English; John Lennon and Ginsberg into Finnish; and with his wife, Corso and William Carlos Williams into German. The great Finnish poets Pentti Saarikoski and Paavo Haavikko were introduced to English readers. Hollo was deeply involved in the nascent small press movement and was a popular reader on the fledgling poetry circuit. Finnish listeners could hear his radio interviews with Rebecca West and Alan Sillitoe, his reviews of plays and films in London, and his dramatisation of The Man Who Would Be King. He was talented, intelligent and wild. In 1965 he read at the Albert Hall.

But America still beckoned. He taught a summer school at SUNY Buffalo, then was offered a more permanent position at the Writers' Workshop in Iowa City. Only a few miles away from his teenage experience, it was much more congenial. The International Writing Program brought old and new friends to town: Gunnar Harding from Sweden, Tomaz Salumun from Slovenia, Nicholas Born from Germany.

When Ted Berrigan arrived to teach, Hollo and he became close friends. During six years in Iowa his students included many now firmly established writers: Barrett Watten, Ray di Palma, Darrell Gray, Merrill Gilfillan and Alice Notley to list a handful. But Hollo was caught in a now-familiar trap. The MFA degrees his students earned left them qualified for jobs his lack of academic credentials barred him from.
After Iowa, Raworth notes this was a time of intense movement across the US for Hollo, from New York, Ohio, Michigan, Maryland, Minnesota, Virginia, Utah, California, ending in Boulder, Colorado where Hollo taught at Naropa University until he retired.
During all those years the books never stopped: translations of Genet, of Truffaut, of Rosa Luxemburg. Volumes of his own poetry up to and beyond Notes of the Possibilities and Attractions of Existence: Selected Poems 1965-2000. In 1996 he received both the Gertrude Stein Award in Innovative American Poetry and the Finnish Government's Distinguished Foreign Translator's Award. Eight years later the Academy of American Poets gave him the Harold Morton Landon Translation Award. He was secretly happy to live only a short drive from Buffalo Bill's grave.
Make your way over to read the rest of this insightful tribute to a remarkable, essential poet and translator.