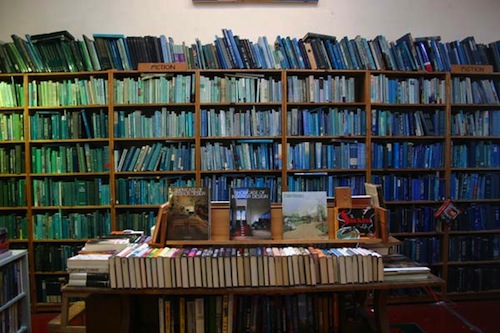 San Francisco is home to many, many great reading venues, and Adobe Books is one of our favorite bookstores/gallery/performance spaces in the Mission. We were disappointed to hear that they were in financial trouble. But fear not! They're rallying to raise funds to not only stay open, but to re-imagine the space altogether. Here's the dealio from their Indigogo page:
10 months ago when we heard that Adobe Books was about to be forced out of business by a 4k a month rent increase we formed a group to try to save it.

Adobe has been such an important part of our lives as artists, writers, book lovers, and Mission dwellers -- not only for the books, but for the impromptu events and gatherings, the gallery featuring local artists, the discussions, friendships and connections it has nurtured among us and the generous, welcoming spirit of the place -- that we couldn't see the mission without it.

So we asked Andrew if he would be willing to stay on as part of a new Adobe books and arts collective, if we could figure out a way -- and he said yes.

For the past 10 months we have been brainstorming and researching, studying alternate business models, reaching out to Adobe's friends near and far and talking to successful bookstores, galleries, and collective businesses -- from Kepler's books to Pierogi Flatfile Gallery in Brooklyn to Rainbow Grocery -- to develop our vision.
If you're wondering what the new Adobe might look like, here's the vision in broad strokes:
Adobe Books and Art will feature...

better books, including a curated selection of new books.

original art by new and established artists for sale in flat files and on our gallery walls

pop-up stores within the store including San Francisco's own Brown Owl Coffee, the Richmond District's Park Life Store, Groove Merchant Records, and other wares by local artists, musicians, and book makers

an exciting mix of programming
including art openings, performances, readings, and our traditional spur of the moment parties, curated by members of the collective and friends of the store

a fresh look -- replacing the old furniture, repainting, redesigning display space and event space

a membership program offering perks and opportunities for co-op members including discounts on books and products and invitations to special events

Last but not least we will be listening closely to you: What's your vision of bookstore/cultural space in the Mission? -- What art/events would you like us to feature, what books/other products would you Like to see us carry, and how would you like to be involved?
As of posting time they were about half-way to their goal. Head over to put them over the top!