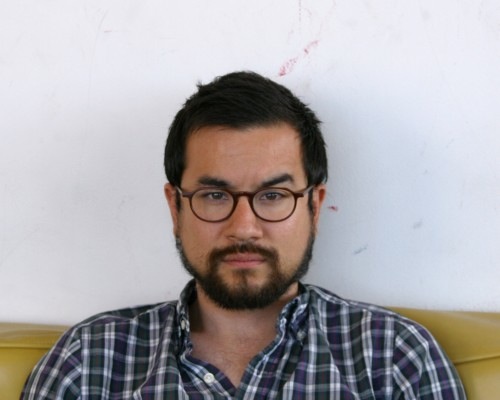 Ben Mirov's latest book is still making the review rounds, this time at The Rumpus with Gina Myers. As other reviewers have noted, Mirov's poems work a spell of disorientation; but Myers sees the derangement Hider Roser delivers as ultimately resolving in familiarity with something. Myers begins:
The experience of reading Ben Mirov's new book of poetry,Hider Roser, is like what the experience of being alone inside of someone else's head might be like: it's a place where one encounters fragments of dreams, splintered selves, and half-thoughts, along with books, authors, memories, and other detritus that makes up a life. Hider Roser is composed of poems that are slightly disorienting and yet somehow familiar as if Mirov has been able to tap into his subconscious and relay something universal and yet original and strange... The disjointedness that occurs feels natural; there is nothing forced here. However, this is not to say there is not an art to this. Every poem is concise and well-crafted.
Myers gives some insightful close readings of poems, focusing, in part, on how the speaker creates emotional distance between himself and his language:
In "Snowliloquy" the language derangement helps to create a distance for the speaker, as if he is embarrassed by his own feelings and so turns to self-mocking:

Loneliness is something more
than nothingness. It's Snowbody
touching your thigh in bed. Snowbody

chopping the peppers for the soup. Snowbody
calling your name from the control room
late one night. When Snowone is around

you think about them. Or you gauge
the rate of your disintegration.
The exact amount of detritus

you'll leave floating through your friends.
Maybe you fall apart. Or you break off
a shard and send it to someone else.

A crystal stranger taking off their mask.
No more transmissions for tonight.
Signed, Yours Truly, Ben Mirov

Or perhaps it isn't a distancing mechanism, but rather simply that the transmission isn't coming through clearly and it's the static that is creating the "s" sound. Nonetheless, there is something sad and tender about the presence of snow (and also something that recalls childish "it's snot" jokes). On the next page, the title "Dove Life" easily echoes "love life," for once the reader enters this world of multiplicities and malleable language, the incongruities appear everywhere.
We love this reading of the "s" sound, as if Mirov's Spicerean radio is on the fritz! Overall, Myers looks at the strangeness and linguistic derangement in Mirov's poems and reports that the work ends in "something eerily familiar and comfortable there too."