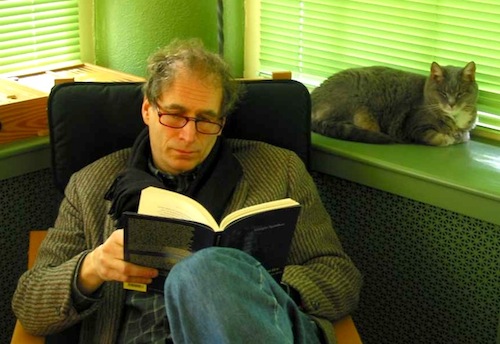 It's easy to be overwhelmed by the vast amount of content on Jacket2, but we visit the site daily and regularly return to the site's archives. Happily, the Jacket2 editors frequently highlight features or articles from the site's earlier days--like this feature on Bob Perelman's work edited by Kristen Gallagher which initially appeared in Jacket 39.
Jacket 39 came out in early 2010, so it's not exactly ancient history. Still, 3 years in internet time is longer than three years IRL. In the introduction to the feature, Gallagher notes that "Books take forever and not many people buy them anymore." We still buy books--too many, probably. But we respect Gallagher's point and are thrilled that she compiled this host of "easily accessed online materials to best serve the largest audience."
This feature is just as relevant now as it was three years ago, and includes some classics, like Charles Bernstein's "The Importance of Being Bob" as well as less-familiar texts like "Fear of Money," Chris Stroffolino's essay on Perlman's work from the 80s. Anyone interested in broadening their understanding of Language Poetry and the possibility of addressing politics in poetry should read this essay:
Perelman's work at this time straddled, insofar as it spoke to the more utopian minimalist (I mean as an ethical stance, not in a poem on the page way) fear of the "world market" while at the same time trying to make a kind of peace with it, or at least a "I'll let you be in my dream if I can be in your dream" pact. In this sense the monologues are, MORE PROFOUNDLY, dialogues, but not in a Frederic Jameson clinical schizoid sense. If one discovers Rilke's DUINO ELEGIES after having already read a lot of Bob Perelman, Rilke seems like "Perelman dressed in camera obscura drag." It's a very similar dynamic dialogue of doubt and faith in both; only the vocabulary is different.
We fondly remember seeing Perlman read shortly after Playing Bodies, a collaboration between Perlman and Francie Shaw, came out. If you're not familiar with this collaboration, Susan Stewart's essay will convince you that you should be:
Not long ago I spent an afternoon visiting Francie Shaw's studio in Mt. Airy and there I saw many wonders, including a wall of small square paintings in blue and white. Each of these paintings depicted two figures — a dinosaur and a form of human being — engaged physically with one another. They were, you could say, more drafted than painted in blue on a white ground. And each acquired a certain theatrical depth from the prominent use of shadows. It was as if the flat and picturesque world of the images on Delft tiles had been transposed into some transforming combat out of Ovid, now shown under a spotlight. And although the tradition of conversation paintings seemed to be evoked, the conversation here seemed a mysterious and silent form of mutual conversion.
You'll find links to these and many other essays, texts and poems on Jacket2.