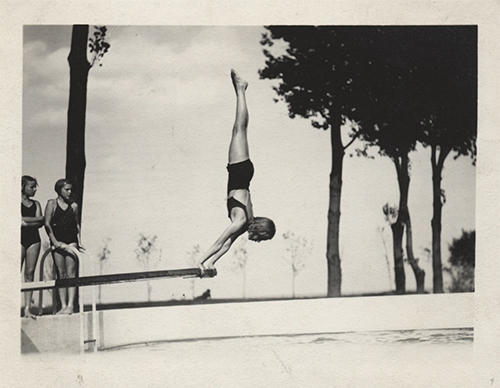 How does one install a quadriptych painting that is eight and a half feet tall and twenty feet wide? Very carefully! This week we welcome the Poetry Foundation's newest exhibition, Joan Mitchell: At Home in Poetry.
Joan Mitchell's mother was Marion Strobel, an assistant at Poetry under Harriet Monroe and one of the magazine's editors in the forties. Poetry remained an important influence for Mitchell throughout her life—she often read poems when preparing to paint and some of her closest personal and professional relationships were with poets. We called the Joan Mitchell Foundation in New York last year to talk about a photograph we had of Joan (above), one thing led to another, and today we are pleased to have Joan Mitchell's Minnesota (1980) staying with us for the next four months.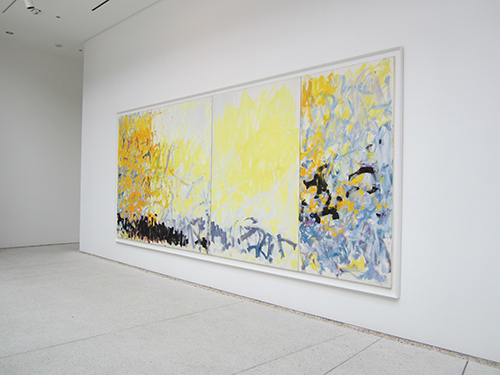 The exhibition appears in conjunction with a special portfolio in Poetry's February issue. The portfolio includes images of Mitchell's paintings and lithographs, photographs of her childhood in Chicago, and essays by writers who knew her or admired her work.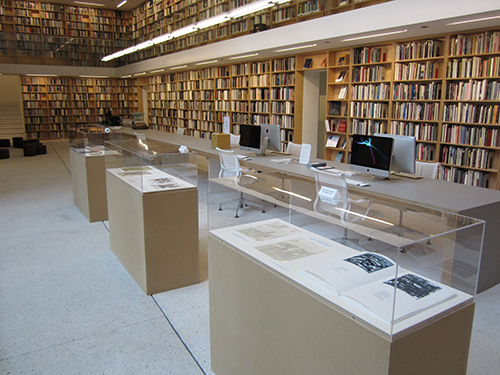 The exhibition also includes several vitrines in the library. The first features the December 1935 issue of Poetry, in which Joan Mitchell's poem "Autumn" was published (when she was ten years old!), a congratulatory note from Harriet Monroe to Marion Strobel on Mitchell's publication, a letter from Strobel to Joan in France, and several photographs.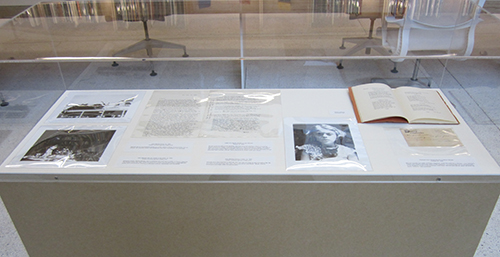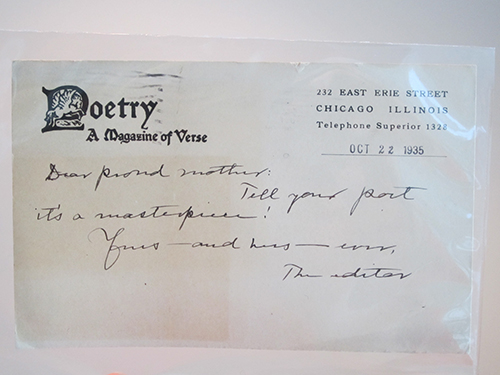 The second vitrine showcases Joan Mitchell's friendship with Frank O'Hara: gossip-filled letters from O'Hara to Mitchell, an original copy of O'Hara's poem "Adieu to Norman, Bon Jour to Joan and Jean-Paul," a photograph of O'Hara and Mitchell, and Mitchell's color lithograph Meditations in an Emergency, a companion to O'Hara's poem of the same title. Marjorie Perloff writes about the connections between the poem and the lithograph in our February 2013 issue. (You can also read O'Hara's "Meditations in an Emergency" as it was first published in the November 1954 issue of Poetry.)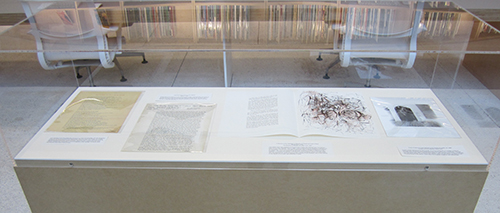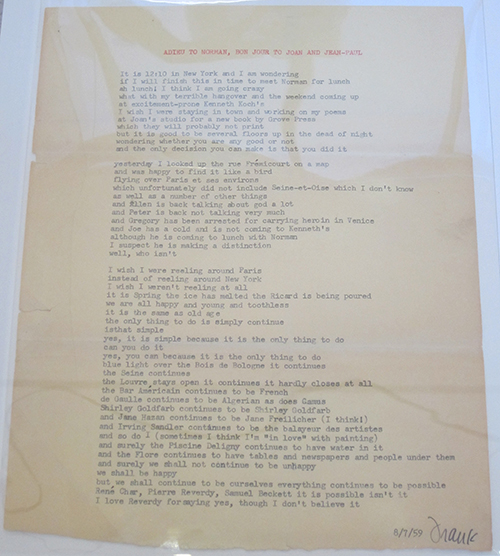 I wish I were staying in town and working on my poems
at Joan's studio for a new book by Grove Press
which they will probably not print
but it is good to be several floors up in the dead of night
wondering whether you are any good or not
and the only decision you can make is that you did it

—"Adieu to Norman, Bon Jour to Joan and Jean-Paul," by Frank O'Hara
The third vitrine includes more letters from O'Hara and Joan Mitchell's prints for Charles Hine's book Smoke: Poems.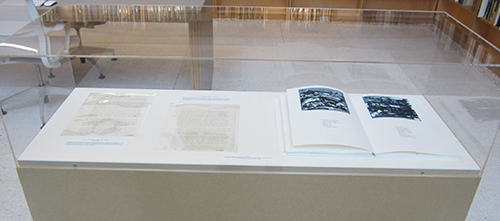 A fourth vitrine is currently in production. It will feature Mitchell's print collaborations with Nathan Kernan and John Ashbery.
The photographs obviously don't do the painting justice, so stop by the Poetry Foundation to see the beautiful work in person. The exhibition will be up through May 31. Not in Chicago? Read reflections on Mitchell's life and work by Bill Berkson, Marjorie Perloff, John Yau, Lydia Davis, Nathan Kernan, and Paul Auster in our February issue. Be sure to keep an eye on our events calendar for a special symposium on the exhibition to come in May.
Welcome home, Joan!