If you've been keeping up with Poetry over the past two years, you perhaps weren't surprised to see Ange Mlinko write about Lynette Roberts for our "Enthusiasms" section in this month's issue. Back in October 2011, Poetry published Mlinko's "Cantata for Lynette Roberts":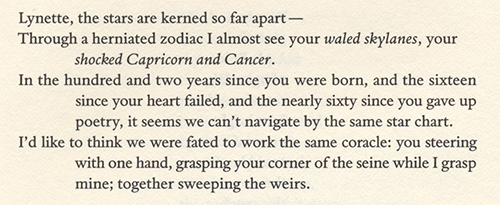 Want to read some Lynette Roberts for yourself? Several of Roberts's poems originally appeared in Poetry in the early fifties. "The Hypnotist" marked her first appearance in December 1952: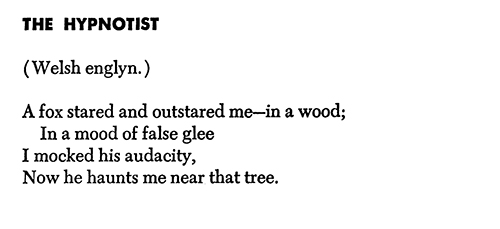 Mlinko describes Roberts's poetry as "machines merged with archaic Welsh meters":
She was a pastoralist dedicated to techne, to the discovery of sound patterns that revealed the quiddity of the thing being described. Yet she lived in an era which was leaving pastoral far 
behind ("Pastoral ding-dong is out," she wrote).
To get a better idea of Roberts's range, read these longer, powerfully strange poems: "These Words I Write on Crinkled Tin" and "Two Wine Glasses." (Love poems in the "all romance is doomed" tradition.)
According to her contributor note in the September 1953 issue, Roberts was "one of the group of British poets sponsored by John Masefield and others to give fortnightly readings of verse and prose in pubs under the 'Poetry and Plays in Pubs' plan." Wish we could have witnessed that!
Head over to the February 2013 issue to read more enthusiasms, including Michael Robbins on Algernon Charles Swinburne ("It's no small thing to end an age"), Peter Campion on Tom O'Bedlam ("I'm here to tell you: he exists"), and Daisy Fried on Kenneth Fearing ("there's a scary hilarity to Fearing's grim, hyperactive march to the grave").
If that gets to be too much positivity for you, don't forget the antidote: plenty of antagonisms in the January issue. You can also catch-up on the last time we featured antagonisms in October 2004 and enthusiasms in March 2006. You can share your thoughts on these features by writing to us at editors[at]poetrymagazine.org.