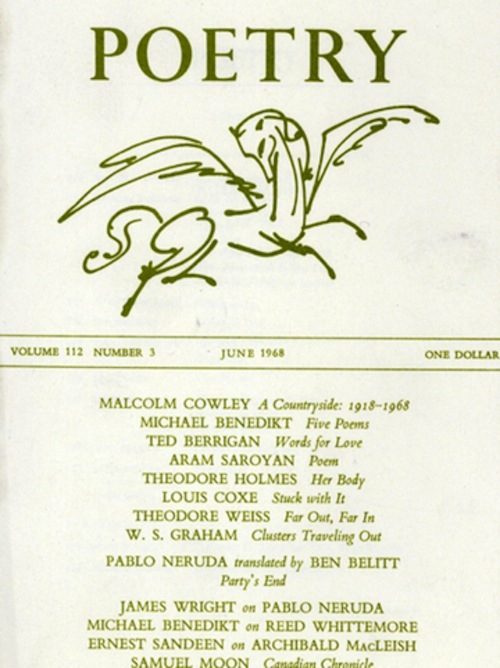 We've been thinking about all things 1968 ever since we read David Biespiel's Poetry Wire at The Rumpus the other day. He offers an interesting challenge, as we mentioned earlier, to name the "Year of Years" in American poetry. We decided to twist the game a little and stick with 1968, searching inwardly at what the year looked like for Poetry magazine. What we found was that 1968 was one hell of a year for the magazine! Below, we cherry-picked a few gems from each month to show what was happening with Poetry in that year of years.
January
Jean Valentine, "April"
Muriel Rukeyser, "Delta Poems"
February
Michael Harper, "The Black Angel"
Dick Gallup, "The Door to the Future"
James Schuyler, "Seeking"
March
Gary Snyder, "Eight Songs of Clouds and Water"
David Bromige, "Dictation"
Larry Eigner, "Eight Poems"
April
Gerard Malanga, "Determinism"
Ross Feld, "A Set of Poems for Jack Spicer"
Gilbert Sorrentino offers a review of 10 pamphlets.
May
Adrienne Rich, "Implosions"
Robert Grenier, "Warm"
June
Ted Berrigan's only appearance in Poetry, "Words for Love"
Pablo Neruda, translated by Ben Belitt, "Party's End"
July
Hayden Carruth, "Coming Down to the Desert at Lordburg, N.M."
Eleanor Ross Taylor, "His Wish"
August
Louis Zukofsky, "'A'-21"
Robert Creeley, "Chicago"
September
Louis Zukofsky, "'A'-21" (continued from August)
Mona Van Duyn, "The Creation"
October
James Schulyer, "Now and Then"
Lewis Warsh, "The California Poem"
James Tate, "Jim's All-Night Diner"
November
Denise Levertov, "An Interim"
Tom Clark, "January Second"
December
May Swenson, "The DNA Molecule"
Robert Duncan, "Passages 31" and "Passages 32"
And that's just scratching the surface... Go over to the Poetry archive and check out the entire year.