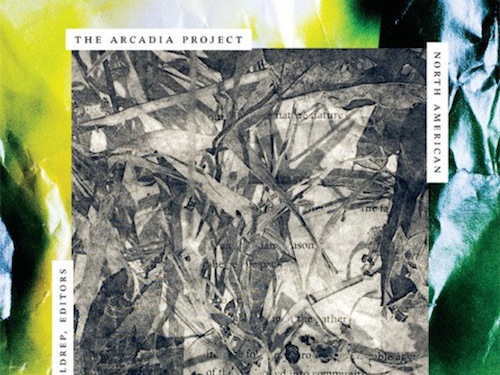 There have been too few reviews of The Arcadia Project, an anthology of "North American postmodern pastoral" poetry from Ahsahta, and edited by Joshua Corey and G.C. Waldrep. Lately, however, the massive compilation has received more attention. Patrick James Dunagan offers us 25 Points, HTMLGiant-style and Publisher's Weekly recently gave it a starred review.
The introduction to The Arcadia Project notes that "an anthology such as this one must be a living and motile assemblage," which suggests an open-ended project. Indeed, The Arcadia Project website suggests that the anthology was more of a convocation than an attempt to assert a new pastoral cannon.
Dunagan laments what he sees as "the lack of having any such editorial presentation of the framework behind the book's conception." Points 6-10 further develop this thought.
6. As presented, there's little tying together of these texts. They are left as isolated cries in a wilderness of language.

7. Poems are divided into four sections: "New Transcendentalisms," "Textual Ecologies," "Local Powers," and "Necro/Pastoral" without any explicit rendering of what may or may not be meant by any of these broadly inclusive and quite permeable categorizations.

8. Questions linger, such as why not include some prose? Both statements of any kind from contributors and/or fiction, non-fiction, or works of theoretical positioning.

9. There's a band but no bandwagon. Dozens of wheels but no cart.

10. As a reader I yearn to relate these texts in some way. To locate some vein or—what one feels is heard as a bad word by many poets these days—tradition within which the work does participate and indeed does seek continue. Of course doing so may prove some "Romantic inheritances" unavoidable.
In contrast, Publisher's Weekly doesn't seem to have trouble relating the anthologized texts, or at least doesn't mind the substantial variety of work brought together:
The editors of this book gathered nature poems from contemporary experimental poets, many of them under 40 years old, to present the natural world through the eyes of, as Corey says in his introduction, "a digital native with dirt between one's toes," representing a movement in poetry toward what is sometimes referred to as "ecopoetics." Many of these poems speak from a natural world in flux and crisis, registering the degradation of the environment from all angles as well as human encroachment on it: "Starlings in the magnolia tree crackle, static, lightning: a helicopter floats overhead," writes Susan Briante in "The End of Another Creature." Of course, they also sing nature's beauty, as does John Taggart, who describes the "white deer the animal the true animal body no jewelry." The editors also offer a fairly comprehensive tour of contemporary poetic forms and modes, from mostly traditional lyrics and long poems to prose poems, concrete poems, colleges, and other pieces that might best be described as visual art with words, such as Robert Fitterman's "Zoomburb." There is a lot here, from well-known writers like Brenda Hillman and Forrest Gander to up-and-comers like Amy King and John Beer. This could be the rare poetry anthology that sticks.