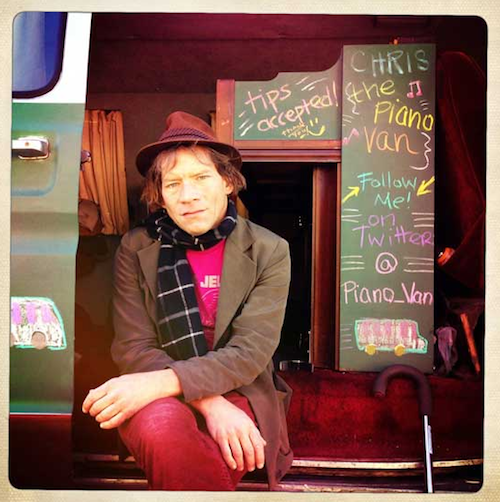 We first read Chris Stroffolino's poetry in the late 90s, shortly after he co-edited, with Lisa Jarnot and Lenoard Schwartz, the Talisman Anthology of New (American) Poets. His most recent book is Speculative Primitive which came out in 2005 on Tougher Disguises, the San Diego-based imprint edited by James Meetze which also published Stephanie Young's first book as well as K Silem Mohammad's now-classic Deer Head Nation. In other words, Stroffolino has been in good company for a while.
He's also a musician. In 1998, he played keyboard and trumpet with David Berman and Steve Malkums on The Silver Jews' American Water Album (Drag City) and put together a tribute to Anne Sexton's rock band for the Poetry Society of America. We saw his band Continuous Peasant in Washington, DC sometime in 2003. Now, he's in LA, living and playing in his van, and the LA Weekly has noticed.
Recently, filmmaker Jeff Feuerzeig, the director of indie smash The Devil and Daniel Johnston, was riding his bike on Sunset near Maltman. He heard somebody playing piano and singing his heart out.

"I'm looking around, I don't see anybody," says Feuerzeig. "I'm thinking, man, that sounds like Daniel Johnston, it's so weird." He kept riding but, his curiosity piqued, he circled back. "Inside this van there's this guy playing piano to no one, and wow! It sounds so great. I took out my iPhone with that Super 8mm app and started rolling. I was like, man, this is crazy, what is going on here?"
You can find that Super 8mm app footage on the LA Weekly article, which happily does a good job describing Stroffolino's poetry and musical background:
What was going on was Chris Stroffolino, a.k.a. Chris the Piano Van, who, it turns out, is not just another broke busker but one rather major dude with an interesting back story. A published poet with a doctorate in Shakespearian studies, the Philly-born Stroffolino had taught creative writing at NYU and Rutgers, and held the post of Distinguished Poet in Residence at St. Mary's College in Moraga. More intriguingly for Feuerzeig, he'd also been a member of Silver Jews, the critically hailed indie-rock combo led by David Berman and whose varied ranks included Stephen Malkmus of Pavement.

But Chris the Piano Van had lately suffered more than his fair share of shit. He'd lost that cushy teaching job up north, gotten his leg bashed bad in an auto accident, and had his heart broke in an ill-fated love affair. He said, "Screw this," loaded his piano and trumpet into a clanky old Econoline and made his way to Hollywood.
But what we're really, really excited about is the fact that Feuerzeig did a 12-track, "lo-fi, Daniel Johnston-style" recording session with Stroffolino in "a quiet place in Griffith Park.":
The resulting 12-track album, The Piano Van Sessions, is now in the can. Feuerzeig's agent has heard Stroffolino's record and story, and is helping him get a publishing and label deal. He's got a website and even a Twitter. The past few weeks have found him holding court in front of clubs, stores and farmer's markets in Hollywood, Silverlake, Echo Park and downtown -- most anywhere he doesn't get told to pack up and move on.

Meanwhile, Stroffolino is still sleeping mostly in the Econoline on these chilly nights. He suffered a mild stroke a while back, and has that bum knee, conditions that require daily therapy to keep himself in working order -- and he has just had his disability claim denied again. Yet he has a curiously upbeat attitude about his situation. When Chris Piano Van gets a bit down, he oddly thinks about one particular gritty place:

"Motown is the workaholic paradigm, which to me is the American dream, and it needs to come back in some way or another. If you don't have startup capital, and can't get a small business loan? The Piano Van is the only way for me to be an entrepreneur -- that's my entry to Motown."
If you are in LA, get thee to one of those clubs, stores or farmer's markets so you can hear Stroffolino play, and keep an eye out for The Piano Van Sessions. If you haven't been lucky enough to read his poems, there are still a few copies of his books at Small Press Distribution.
[Editor's Note: For a follow-up to this story, please follow the link here to read an interview with Stroffolino.]