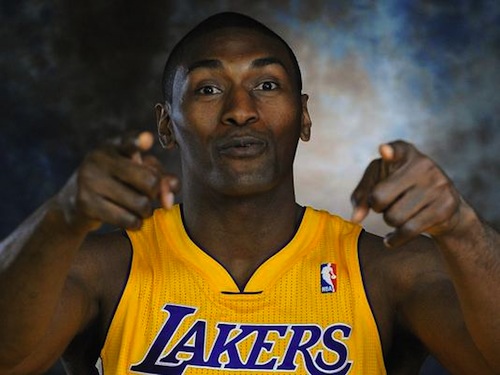 When we're not snooping around the interwebs for poetry news stories, we sometimes like to check out what's going on with Yahoo Sports in the Philippines. It's mostly a time-waster, but today it totally paid off because we found this story about Jeff Parker's poem made of collaged quotes from LA Laker's forward Metta World Peace. Then when we saw that the poem was here and here and here, we realized we had a viral poem on our hands. From Yahoo:
Compared to superstar teammates Kobe Bryant (who's spoken and typed loudly, publicly and often) and Dwight Howard (who's also spoken loudly, including, allegedly, in private), it's been a relatively quiet season for Los Angeles Lakers forward Metta World Peace. I mean, sure, he's gotten suspended for kind-of punching the Detroit Pistons' Brandon Knight, gone into the stands to kiss a woman's hand after a dunk, begun working on a TV prank show and addressed the LAPD in Cookie Monster pajamas, but, y'know, that's it. Pretty standard stuff, and it's been mostly quiet besides.

But while his own actions have taken a backseat to larger Hollywood dramas this Lakers season, World Peace's words still contain multitudes, if you listen carefully and organize them properly. Luckily, Jeff Parker — an author, director of the University of Tampa's creative writing MFA program and sports fan — is just such a listener and quote curator, and has transformed World Peace's postgame musings into a cut-and-paste piece of poetry entitled "Erratic Fire, Erratic Passion."
We did some digging and found that the story originated with the Barnstormer. Go now to read the poem in all it's "Erratic" glory!