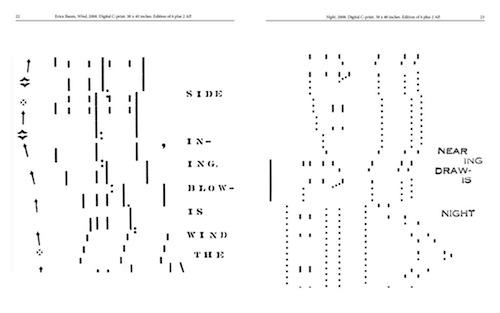 The folks at fashioncentric Flaunt magazine have devoted a recent Au Contraire section to poetry. 18 pages of John Ashbery, Fiona Banner, Caroline Bergvall, Derek Beaulieu, Erica Baum, Kenneth Goldsmith, Christian Bök, and Alexander Grant, to be exact. Who knew Flaunt was interested in poetry, let alone innovative and emerging conceptual literature?
Since the publication of its first issue, Flaunt Magazine has examined provocative issues and ideas pertaining to art, fashion, film, music, media, and literature. Twelve years on, the publication continues its original intent of preserving the core value of constructive inquiry and artistic freedom.

Flaunt is a wholly independent magazine published 10 times a year and distributed in over 32 countries.
We find the texts a bit difficult to read and view online, but despite this design flaw hope that Flaunt continues to feature more poetry in the future.