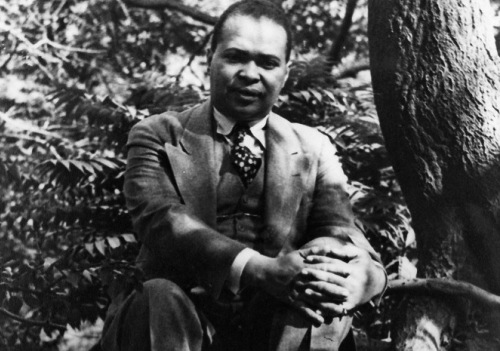 Major Jackson has penned a piece at the Boston Review called "Countee Cullen and the Racial Mountain," in which he addresses the conflict of race for black poets, as if "merely wrestling with words and the mysteries of existence hasn't been considered enough." This is where Countee Cullen ("the Black Keats," as he was nicknamed) comes in:
Cullen's career is a case in point rather than an exception to this rule. In his lifetime and after, his writings have been by turns excessively praised or prejudicially discounted, not so much for their particular literary merits or failings, but for the ways in which they address broader debates about race in American culture. Some, like W.E.B. Du Bois, sought to boost Cullen less for his art alone than for what his art would prove about African American character. Others, like Langston Hughes and many after him, suspected Cullen of aspiring to a kind of whiteness in his poetic practice—even as his poems articulate a unique vision of the joys and trials of being black, male, and some would vigorously add "gay" in early twentieth-century America.

In a publishing career that spanned over twenty years, Cullen produced a body of work that included not only five volumes of poetry—Color (1925), Copper Sun (1927), The Black Christ, and Other Poems (1929), The Medea, and Some Poems (1935), and the collected On These I Stand (1947)—but also a novel, One Way to Heaven (1931); two children's books, The Lost Zoo and My Nine Lives and How I Lost Them; and the musical play St. Louis Woman (1946), his collaboration with poet and novelist Arna Bontemps. His translation of Euripides's Medea is considered the first major translation of a classical work by a black American writer.
Jackson also looks into another conflict, recalling a line from a classic Harlem Renaissance anthology that "Countée Cullen's chief problem has been that of reconciling a Christian upbringing with a pagan inclination." More:
On the most polite level, it indicates Cullen's tendency, in his poetry, toward a kind of Keatsian sensualism. Instead of the moral strictures or exhortations one might find in a properly "Christian" poet—and indeed Cullen's father perennially urged him to write more poems in an explicitly devotional, religious mode—Cullen is more often interested in gorgeous imagery, or in the pleasures of the sounds of words for their own sake. (Critics have identified Keats as one of Cullen's primary influences, and indeed Cullen's tone often strikes one as exceptionally Keatsian. His lyrics often address the principal themes one associates with Keats: beauty, love, mortality. But what might be called Cullen's Keatsianism is intertwined and melded with other thematic concerns—particularly race, and wrestling with issues of doubt and faith. Cullen's "Christian upbringing" shows through, throughout his writings.)

Cullen's use of pagan may also raise the possibility that he sensed or wondered, as an African American poet, about some essential persistence of what Phyllis Wheatley called "my Pagan land"—an African past, or a specifically racial heritage, that would perhaps cut against the proprieties of his American, Christian life. Cullen sometimes rhapsodized over African scenes, offering exotic visions of magical, pantheistic worship in dark humid jungles. In "Heritage," he interrogates and examines the claims such visions ought to have on him. At one point he notes his distance from the "pagan" past:

Here no bodies sleek and wet,
Dripping mingled rain and sweat,
Tread the savage measures of
Jungle boys and girls in love.

Writing from the parsonage of Salem Methodist Episcopal, in his strictly iambic and certainly never "savage" measures, Cullen is by turns fascinated by, distressed over, and even occasionally embarrassing in his enthusiasm for what he imagines of "pre-Christian" Africa.

Pagan may also hint, at a more deeply coded level, of some self-awareness of homosexual identity. Gay writers and theorists beginning around the turn of the nineteenth century often turned to ancient Greece as a way to find their roots and imagine a less encumbered future, just as many black writers turned to Africa. Cullen avidly followed both of these intellectual developments, reading and making contacts with proponents of both.
Jackson goes on to discuss the poem that made Cullen famous overnight--"The Shroud of Color," for H. L. Mencken's American Mercury in November 1924; his relationship to Du Bois ("[Cullen] was celebrated as the golden exemplar of a campaign by black political and cultural leaders who sought to engineer a new image of black people in America"); and that to Langston Hughes, who was first a friend and, later, spurned Cullen's "desire to run away spiritually from [his] race." Find the full piece here.