Who: Native American Poets
What: Native Innovation: Indigenous American Poetry in the 21st Century
When: March 21 through March 24, 2013
Where: Poets House, New York
***
The ghosts of the Mohawk woman Molly Brant and the Canarsee chief Gowane, the burdens and gifts of history, the deaths and resurrections of languages, the puzzles and promises of identity: such were the concerns of "Native Innovation: Indigenous American Poetry in the 21st Century," a four-day symposium hosted by New York City's Poets House last week.
The conference resulted from years of collaboration among Poets House staff members, poets Joseph Bruchac and Allison Adelle Hedge Coke, and others. "It's up our alley because we care about many different poetries, the relationship between language and culture, and the relationship between oral and written traditions," explained Poets House executive director Lee Briccetti. Poets House was also inspired by its proximity to the National Museum of the American Indian, which sits a few blocks away at Bowling Green, and hosted a Joy Harjo reading on Thursday night to kick off the conference. This symposium marks the first collaboration between the two institutions.
It marks a collaboration, too, between two generations of native poets. The older one came of literary age in about 1970, during the period often called the Native American Renaissance. In the wake of N. Scott Momaday's rise to fame, poets such as Harjo and Maurice Kenny began gaining attention from the mainstream, according to Bruchac, who also started publishing around then. More and more native writers followed suit, including younger poets such as Cedar Sigo, Natalie Diaz, James Thomas Stevens, Sherwin Bitsui, Santee Frazier, and Jennifer Elise Foerster—all of whom spoke and read at the conference.
On Saturday, Bruchac summoned us back to the panels in Kray Hall by playing an Abenaki recorder. The music was filled with trills and dives and leaps, and the next day, he generously provided me (and Youtube) with an encore:
Music proved a constant through the weekend, not only because Bruchac occasionally whipped out his flute, but also because he and Harjo sang during their readings, and Kenny's voice rose and fell as he recited his work, and the poets sometimes talked in their native languages, which have a music of their own.
Several of the most fascinating discussions focused on the nature of the those languages, how they differ from English, and how such differences filter into poetry. "English was my first language, but I feel like I'm bumping up against its restrictions," said Karenne Wood, who is Monacan, during a Sunday session. "English is noun-driven and subject-focused, and it has the ability to be abstract and bury itself in complexites. My native language is very practical—it's about what we have done, will do, are doing—it's centered in action. I believe the value systems encoded in native languages and ways of thinking are very powerful."
In another conversation, Bruchac elaborated on what such a value system means for him. His native language, Abenaki, is built on verbs, he explained; the word for river means "flowing thing," and the word for "watch" translates as "that thing which makes a noise but is doing nothing useful." The language's grammar complements the Abenaki view that "things aren't sitting still"; it "matches the mutability that characterizes existence, the fact that we're all changing in various ways and going through a universe affected by our passing through it."
How might linguistic structures influence poetry? Diné (also known as Navajo) is another verb-based language, and Jennifer Foerster noted during a panel that its structure adds kinetic energy to the poetry of Diné author Sherwin Bitsui. He writes, in Flood Song: "A city dragged its bridges behind it and finally collapsed in a supermarket asking for the first apple that was ever bitten." I imagined Manhattan yanking Staten Island by the Verrazano-Narrows Bridge, which is visible from Poets House.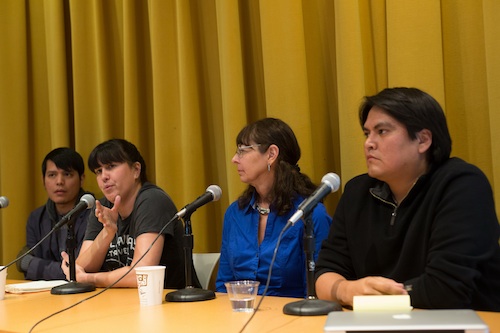 The synergy between his languages has prompted Stevens, who is half-Welsh, to place English translations side-by-side with his Mohawk poems, showing that one is not above the other, that they merely represent different ways of looking at things. Such strategies reveal what gets lost in translation, he says; simple English words correspond with full phrases in Mohawk. "Rabbit" means "two ears side by side," and "horse," "one moves atop its back."
For many of the poets, preserving or reviving languages has proved a crucial task. "Language is power, and that's why we lost our language, because people knew that," said Natalie Diaz, who is Mojave. "They tried to sever the language, to cut off our tongues." She told us that members of her community have taken the Mojave language into high schools: high school students are "our fastest group of learners and will be our first truly fluent Mojave language teachers," she said. "When you gave them their name in Mojave, you can see them swell up; they're no longer Tyrone or Ziggy, they're 'one who carries the cane.'" Three elders in her community remain who are native speakers of Mojave; they tell the renamed youth: "Now you are what you were meant to be called from the beginning."
Bitsui described the significance of recovering his Diné language. He grew up in a "traditional Navajo world" where everyone spoke Diné, but he lost it little by little; in high school, he was made to feel ashamed of the language. When his grandfather was recuperating after an illness, Bitsui faced a turning point. "There was a moment when I could not express my fear or love," he said. "I could not say 'Grandfather, I don't want you to die, I want to learn more from you about who we are, I need you'—I could not say that. I remember sitting on the edge of his bed. I'm bawling, and he's looking at me like 'What the hell, what's up with you, I'm not dead.'" From then on, Bitsui said, he focused on remembering the language and "being brave" in it. He told his parents to address him in Diné on the phone. "For me it's empowering to come back into that and celebrate it," he said. "Now I  can converse with people. It's the essence of me; it's home. It's beautiful and musical and funny and deep, bluesy, romantic."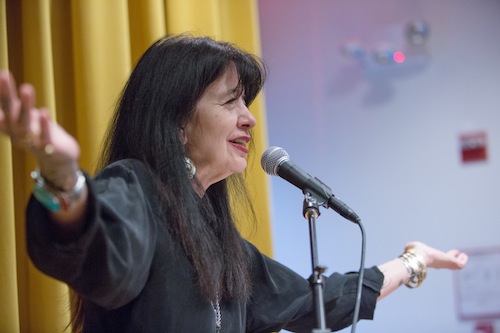 Running through all the discussions is the question of how the poets relate to their backgrounds. While Stevens has published poems in Mohawk, Santee Frazier "actively extricate[s] any terminology or words associated with native people. . . . I don't want to put my nativeness on the page," he explained. "So the poems become personal or mimetic; they represent things in my life that are distinctly native, but without announcing it.
"I have the luxury of not having to do that because people did that before me," he added. And Hedge Coke muttered—to Frazier, or to her poetic forebears, or to both—"Yes! Thank you! Thank you!"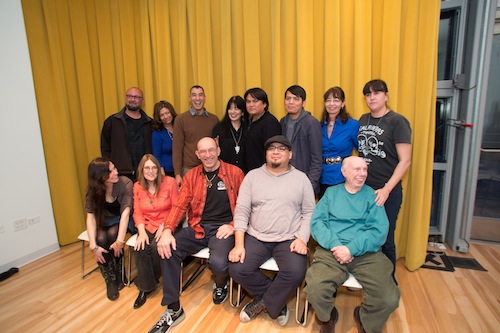 When Stevens asked a panel what makes literature or writers "native," Hill answered simply: "Native literature is written by native people." The conversation swiftly turned to stereotypes, with Hill noting that—despite what some seem to think—"we are contemporary people. We get on airplanes and go to France! Native people are everywhere, all over, and do a lot of different things."
The panel concurs that those stereotypes exert a certain effect on publications. Hill pointed out that natives living in the Midwest have a hard time getting published because "people have the conception that there are no Indians in that area at all. People want more beads and feathers, but we're working slowly to change those misconceptions."
Kenny added that he's sure his books about Francis Bacon and Hart Crane won't see the light of print: "If you don't have a teepee in it, if you're not scalping somebody, they don't want it," he said ruefully.
*
During a Sunday session, Bruchac tells us that, in the Abenaki language, the word for "humor" is imbedded in the word for "human," suggesting that the "common way to be is to find ways to laugh." He asks how humor influences the panelists' work.
"Humor for us is another way of surviving; it gives us a break," said Diaz. Laughter is abundant in these panel discussions, among poets and audience members alike. Only after the conference has ended do I realize that such moments of humor provided attendees with a break, too—that this symposium, for all its hilarity and hope, was deeply sad. In the days following it, I have been thinking of the languages and people no longer on this island. It is Passover, and I ponder the horrors that led my own ancestors away from their native places and toward someone else's.
During the Sunday night reading, Kenny—physically slight but a giant among Native American poets—bellowed and bounced. He described visiting a synagogue-turned-museum in Prague; the names of Holocaust victims were inscribed on the walls. "Every time I saw a Steinberg, I saw a Red Jacket," he declaimed. "We shall suffer, and I shall weep for all of us."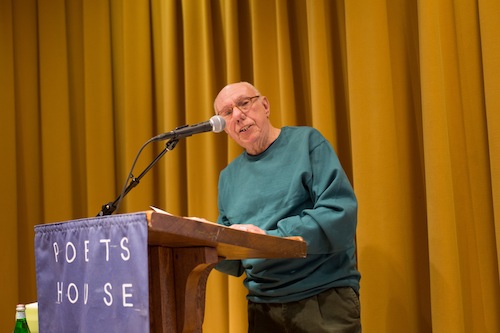 Abigail Deutsch, the winner of Poetry magazine's 2010 Editors Prize for Reviewing, lives in New York. Her criticism appears in the Los Angeles Times, the San Francisco Chronicle, the Village Voice, n+1, Bookforum, and other publications.