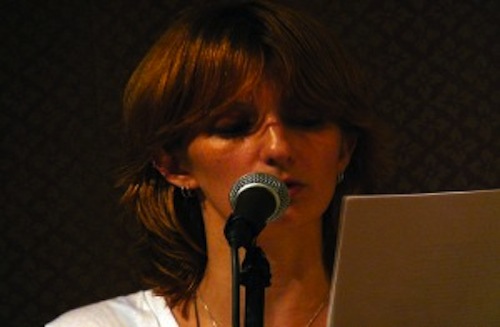 Barry Schwabsky has written a fabulously in-depth review of Amy King's I Want to Make You Safe. We appreciate it when a reviewer situates a book within the context of all of that writer's work, which is exactly what Schwabsky does in this piece.
When I read King's first full-length book, Antidotes for an Alibi, in 2005, I noticed a series of basic words that recurred through the book — woman, love, God, sex, mother, child, man — and that seemed to structure its emotional plot. In I Want to Make You Safe, by contrast, such recurrent words don't make themselves felt; they're probably still there but more subtly. Yet the emotional tenor of her verse remains evident and I can't help suspecting that words like love (the book's final word), death, art, earth, and body occur more often in I Want to Make You Safe than in most of the new poetry that comes my way; even in those poems where such words don't occur, they somehow seem to be lurking somewhere in the background. The puzzle is how King manages to square her work's emotional openness with its semantic obliquity. I don't think it's entirely a matter of technique. It's more an awareness that words were not born to be filed away in dictionaries and retrieved at leisure, but to lie heaped up around us waiting to be scooped up by the handful in the spontaneity of a linguistic gesture that can make do with whatever verbal objects come to hand. Thus a certain degree of arbitrariness or at least approximateness is not simply acceptable but absolutely essential to her writing — otherwise, the calculation of the gesture would cancel out its import.

There's a paradox here: to make her poems work, King must be accurate in her arbitrariness, precise in her approximations. And she almost always is. It may be hard to specify why — but it becomes clearer in contrast to the relatively rare instances where things go awry and one senses the poet making a mannerism of her own method. One poem where this happens is "Our Eyes Register the Light of Dead Stars," which overuses the device of combining a noun and adjective (or adjectival phrase) catachrestically: in short order we find "a glassy sun," "the stewing universe," and "our glassy brow," followed by "That devil's tuxedo promise," "piano fire cures," and "soft-focus silt" (20). As Kasey Mohammad pointed a number of years ago, "it is very unlikely that two different people will ever have exactly the same sense of when catachrestic language produces a dynamic poetic effect, and when it simply produces uninteresting noise," but in this case I'd suggest that the quick succession of similarly structured catachrestic phrases gives off a clangor that diminishes one's interest in the poem to the extent that it feels too mechanical (but on the other hand, if it were a mechanical effect that was desired, not mechanical enough); this diminishes rather than accentuates what is always the real content of King's poetry, which is the concrete world of our everyday lives with its unfiltered sensations and sudden shifting microemotions.
Schwabsky concludes the review by noting how I Want to Make You Safe "brings something new to King's work: a pair of longer poems (the title poem and the final one, "This Opera of Peace"), allowing her lyrical impulse greater range." Head over to Jacket 2 to read the rest of this thoughtful piece.