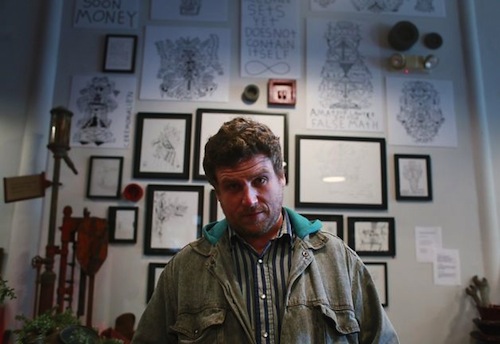 The Sacramento Bee writes up Zach Houston, who has been writing poems on the fly on a 1968 Hermes Rocket typewriter and selling them to passersby in the Bay Area for going on eight years...
Houston looked up and smiled. "I love the typewriter, man," he said. "I'm only 30, but I feel a severe disconnect between analog and digital. I like 'em both."

Then he resumed banging away, finishing the ode to music for Felder just as, coincidentally, he ran out of paper. He ripped it from the roll and handed it over, and Felder proceeded to read it aloud.

… all are equal in experience audio

electronic transform from several

hundred miles away thats

the ticket to in concert we

all go together acoustic

to refuse to listen

is near and far

impossible

to deny…

She stopped mid-word.

"Love this!" she exclaimed.

She finished reading, pocketed the 5-by-7 inch paper (thick stock; Zach doesn't skimp), then mused on the utility of poetry in our lives.

"It's a complicated world, and we need heightened language to get through it," Felder said. "And poetry is like looking out at the ocean, you know. It's a way to achieve that. Street poems, street art – beautiful contribution to society. It's a subversive way to look at commerce, also. You pay the artist directly. How often do you do that anymore? It's all very ancient Greek."

Felder asked Houston if he knew of another street poet she'd encountered, one who often haunts the 16th and Mission Street BART station, where, Felder added, "the acoustics are great for a manual typewriter."

"That must be Lynn Gentry," Houston said. "He started doing it a couple of years after I did."

In the pecking order of Bay Area typewriter street poets, Houston stands (sits, rather) as the originator. There's no Yaddo-like organization in which to check, no PEN Center for street-corner scribes, but given Houston's vita, he certainly has the credentials.

He's had an artist-in- residence installation at the Nelson-Atkins Museum of Art in Kansas City, exhibitions at SF Camerawork, composed on demand on the streets of Berlin and The Hague, Netherlands, and "performed" at galleries from New York to Los Angeles. He recently opened a studio in downtown Oakland, thanks to a grant from a San Francisco arts organization called Southern Exposure.

His style is stream of consciousness, though he admires e.e. cummings more than the Beat poets. He laments that he once sat in front of the famed City Lights bookstore and got nary a taker. These days, you can find Houston on Saturdays at the farmers market at San Francisco's Ferry Building, though he has so many other projects that he sometimes blows off the gig.

Not bad for a self-styled artist with no MFA to his name and little formal training – though he did study linguistics, art and sociology at Sonoma State University before dropping out.

"I wanted to major in 'information' and – do you get the joke? – they said information didn't exist as a study," he said. "I said F-you. I'll check back in 15 years when information (technology) is all you'll study. It's, like, the most advanced science in the world. That was kind of frustrating, you know, being rebuffed by a mediocre school."

But Houston doesn't have time to elaborate. He's banged out Felder's poem and another on the subject of "secrets, coincidences and triangles" for Helena, a barista at a Temescal Alley cafe. And now Spinazze is requesting a poem. Subject matter: winter.
Read it all here. And for more of the lovely Zach Houston, check out his site. Portrait of the artist courtesy of the SF Gate.