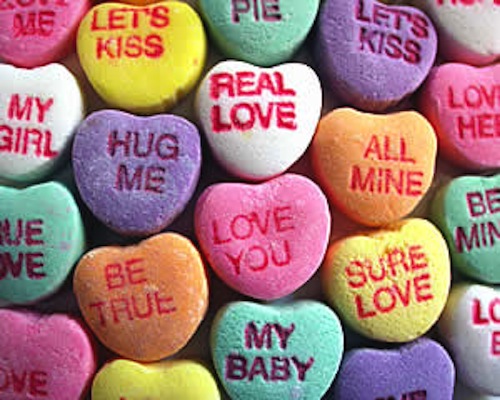 In high school a friend of mine, who was suffering through the relentlessly miserable alienation of a suburban public education, was diagnosed with "Emotional Disorder." Emotional Disorder! She is, no surprise, a poet and artist. Don't all poets suffer from Emotional Disorder?
Paisley Rekdal so wittily describes the difficulties of being a poet in the world here, which I experience as a kind of non-contagious social leprosy. And if that isn't bad enough, most likely I also suffer from SAD: Seasonal Affective Disorder. The winter is long, grey, and cold in Vermont; I have yet to take up an outdoor sport to feel excited about snow; I can't get away to an island to thaw in the sun; and we have an extra season here—Mud Season—which comes before spring, which comes late. As I'm writing, there are still no leaves on the trees. (The summer and fall, though, are divine. Do vacation here.)
To get through this little ice age, I rely on a few strategies, but what I really wished for this Valentine's Day (February is bleak) is Candy Hearts for depressed poets. Candy Hearts with a pinch of anti-depressants and Vitamin D, and natural food coloring of course. Just like the ones rattling behind those clear plastic windows in slim, rectangular boxes; the hearts sliding around so appealingly inside, their sweet pastels dusted with sugar, yet with advice from the great poets.
Shakespeare's Sonnets could have their own box:
OUR DATES ARE BRIEF (#123)
ADMIT IMPEDIMENTS (#116)
ALL MEN ARE BAD (#121)
A WASTE OF SHAME (#129)
LOVE IS MY SIN (#142)
PRISON MY HEART (#133)
PAST CURE I AM (#147)
KILL ME OUTRIGHT (#139)
Or, the Emily Dickinson Box "for the tooth that nibbles at the soul":
A PRISON GETS TO BE A FRIEND (#652)
GOOD MORNING – MIDNIGHT (#425)
A HEART IN PORT – (#249)
PRETTY WORDS LIKE BLADES (#479)
MY PORTION IS DEFEAT – TODAY (#639)
ME FROM MYSELF – TO BANISH (#642)
BOUNDARIES OF PAIN (#644)
TO ACHE IS HUMAN (#479)
Don't you think Walt Whitman would have been a great Candy Man?
I will stop now and sit on my porch and will the daffodils to open.
Born in Seattle and raised in Pittsburgh, poet Camille Guthrie earned a BA at Vassar College and an MFA at Brown University. She is the author of the poetry collections The Master Thief (2000), In Captivity (2006), and Articulated Lair: Poems for Louise Bourgeois (2013). Her experimental long poems and inter-textual poetic sequences often engage...