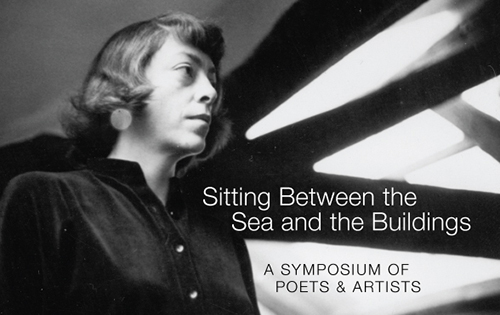 On Saturday, May 11 Poetry will sponsor the Poetry Foundation's first-ever symposium on poets and artists. Poets Bill Berkson and John Yau will be joined by artists Lesley Dill and Mildred Howard to talk about the intersections between visual art and poetry.
The symposium will end with an announcement of a new collaboration between poet Douglas Kearney and artist Terry Adkins that will be unveiled later this year. The commission, like the symposium as a whole, aims to demonstrate how collaboration can change the way artists and poets think and work. You can find the full schedule of events here.
Feel free to join us for one or all of the talks! It's open to everyone. The Center for Book and Paper Arts at Columbia College Chicago created special keepsake prints for the occasion.
The symposium is named "Sitting Between the Sea and the Buildings" after the first line of John Ashbery's "The Painter" (originally published in Poetry's December 1955 issue!) and is presented in connection with the exhibition currently on view at the Poetry Foundation, Joan Mitchell: At Home in Poetry. The exhibition features the large-scale quadriptych painting, Minnesota (1980), as well as photographs, correspondence, print portfolios, and artists' books that Joan Mitchell created in collaboration with poets. The exhibition and library will be open 10:00-4:00pm this Saturday in honor of the event.
Joan Mitchell's legacy of collaboration with poets serves as the launching point for this symposium. Pick up our February 2013 issue to read essays by John Yau, Bill Berkson, Marjorie Perloff, Nathan Kernan, Paul Auster, and Lydia Davis on Mitchell's work and her relationship with poetry. We are so pleased to partner with the Joan Mitchell Foundation to bring this event to life.
Can't wait until Saturday? You can peruse the Joan Mitchell portfolio online, catch-up on Bill Berkson's blog posts for National Poetry Month, and view photos of the installation.
We hope to see you there!