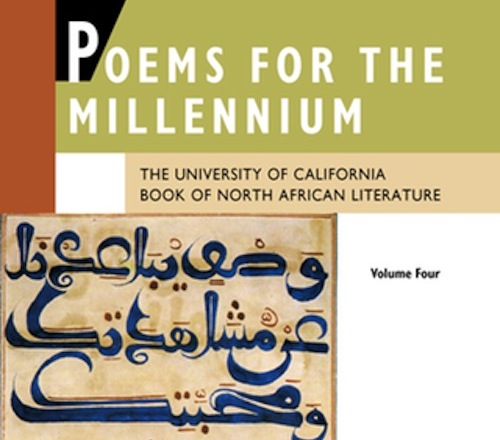 Hyperallergians, fear not! Barry Schwabsky has reigned-in the poetry for this weekend's installment of the epic arts and culture newsletter. Check this:
Ezra Pound said poetry was news that stays news. I thought that in gathering some notes on poetry I've read this year I'd bring a bit of news and only after doing so realized to what extent those notes would indicate how today's poetry can be entwined with medieval Moorish Spain or fourteenth century Tuscany or Elizabethan London or sixteenth century Japan. Sometimes, apparently, poetry can also be ancientries made new again.
Who knew one could doth speak of Ezra Pound on thee internet and still sound fresh?
We're still working on it ourselves but read more of Schwabsky's notes to catch up on his thoroughly-contemporary thoughts about Cathy Wagner's Nervous Device; Quite Frankly: After Petrarch: Canzoniere 1–28, by Peter Hughes; Poems for the Millennium, Volume Four: The University of California Book of North African Literature, edited by Pierre Joris and Habib Tengour; Sonnagrams 1-20, by K. Silem Mohammad; As Long As Trees Last by Hoa Nguyen; Portuguese by Brandon Shimoda; and Andrea Zanzotto, Haiku for a Season / Haiku per una stagione, edited by Anna Secco and Patrick Barron.
Let this word-byte from Schwabsky's thoughts on Poems for the Millennium, Volume Four: The University of California Book of North African Literature, serve as one example:
This book, tracing more than two millennia of literature in North Africa but concentrating on modern times, may seem a stranger bearing many strange things but there's good reason why it appears as the latest volume in the great Poems for the Millennium series. This series began with two big volumes of "modern and postmodern" poetry edited by Jerome Rothenberg and Pierre Joris, published in 1995 and 1998. It then backtracked to the nineteenth and even the late eighteenth centuries for a collection of romantic and, yes, "postromantic" poetry in 2009, edited by Rothenberg and Jeffrey Robinson. The backward extension of the Poems for the Millennium brand to modernism's immediate precursors in Europe and North America — albeit in incipient dialogue with Asia—was at once logical and revelatory; the sideways leap to a tradition essentially unknown to most Western readers comes as more of a surprise. And for just that reason, the book is even more of an eye-opener.
Be all about it at Hyperallergic!