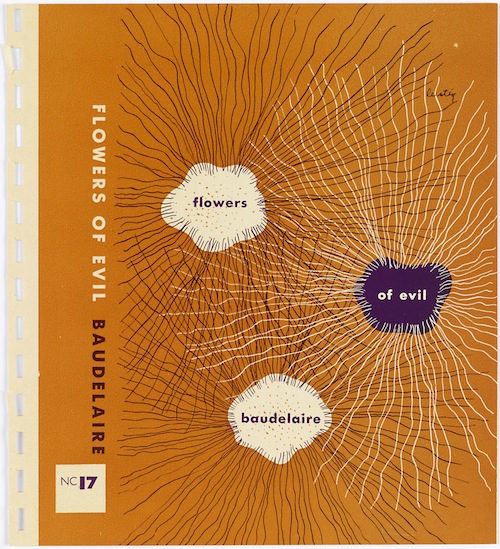 ...like those ones that are on books published by New Directions... Oh wait! Here's one! Our friends over at BOMBLOG, recently posted a fantastic conversation between Michael Barron (Poet and Associate Editor at New Directions ) and Elaine Lustig Cohen (Artist, Designer, and Partner/Collaborator of the late Alvin Lustig: legendary book jacket designer for ND). How'd they even find each other? Barron explains:
I first met the artist and designer Elaine Lustig Cohen through the website dedicated to her former husband, the legendary designer Alvin Lustig. Back in 2006, I had been asked to get in touch with the estate regarding his jacket designs for New Directions: we were hoping to replace intermediate designs on some of our books with the original Lustigs. I was an editorial assistant at the time; New Directions was still going through a generational change. Emails were considered unofficial. One senior editor told me to type a letter, "preferably with a typewriter." Another told me to call. But I had neither an address nor an number. So I emailed the webmaster of the Alvin Lustig site and hoped for the best. Elaine herself answered my inquiry—it was the first contact she had had with New Directions since its founder James Laughlin passed away in 1997.

That was almost seven years ago. Yet over the years, Elaine and I have teamed together in promoting the legacy of Alvin Lustig. Many of New Directions' classic titles now proudly wear their original Lustig jackets. This May, New Directions will issue an Alvin Lustig postcard collection: 50 of his best ND designs in a box.

Since our first meeting, I have also come to discover Elaine's incredible body of work. A couple of years after our initial contact, she invited me to her opening at the Julie Saul Gallery. The exhibit was called, "The Geometry of Seeing" and it displayed the sort of opus only a designer cum artist could develop—a prototype for a sewing kit, a giclée of a geometric Alphabet, a collage made from old train tickets, and a wooden box adorned with colored cubes, among other pieces...

This interview took place at Elaine's Upper East Side home. The interior of her townhouse is touched with a designer's sensibility—everything in its right place, from the curation and layout of art to the selection and placement of furniture. Speaking with Elaine is like cracking open a volume of 20th-century American design history. At 85, Elaine's memory is as sharp as her knowledge is erudite. She speaks with a modest firmness, doubtless in her affirmation of fact, but humble about her accomplishments.
To learn more about Elaine Lustig Cohen visit her profile here. To read more of her conversation with Michael Barron, read-on at BOMB.