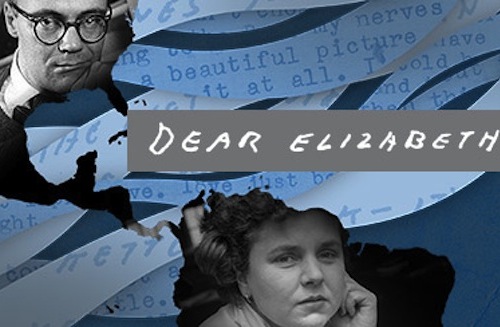 That's right! Acclaimed playwright Sarah Ruhl's newest play opens this weekend at Berkeley Repertory Theatre and it's based on the three-decades-long letter correspondences between poets, Elizabeth Bishop and Robert Lowell.
As Berkeley Repertory Theatre states on its website:
Sarah Ruhl and Les Waters, acclaimed collaborators who created Eurydice, In the Next Room (or the vibrator play) and Three Sisters, return to Berkeley Rep with another tale of love and longing. Dear Elizabeth follows the beautiful and bittersweet friendship between Elizabeth Bishop and Robert Lowell. Across oceans and continents, across three decades, these esteemed poets found a true marriage of minds in their eloquent correspondence. Dubbed the Dickinson and Whitman of the 20th century, they traded hundreds of vibrant, witty and passionate letters that now spring to life on stage. This West Coast premiere paints an intimate portrait of two extraordinary—and quite ordinary—lives, told anew by two of the finest artists of our time.
Ugh it's going to be so good! Have you seen it already? The production opened on the east coast to stellar reviews in the New York Times like this one:
Ms. Ruhl, who studied poetry before becoming a playwright, obviously has great respect and affection for both writers, and for those unfamiliar with the correspondence (published in 2008 under the title "Words in Air"), "Dear Elizabeth" will surely shed light on both the writers' emotional and working lives.

Beautiful passages abound. Perhaps my favorite, from Bishop to Lowell, in generous admiration of his recent poems: "They all have that sure feeling, as if you'd been in a stretch when everything and anything suddenly seemed material for poetry — or not material, seemed to be poetry. If only one could see everything that way all the time. It seems to me it's the whole purpose of art — that rare feeling of control, illuminating — life is all right." Then, in a telling phrase that says much about their troubled lives, she adds: "For the time being."
If your juices aren't flowing yet, check out this interview between Sarah Ruhl and Ruth Graham, or this podcast. We can't wait! Oh man, oh man: see you there!