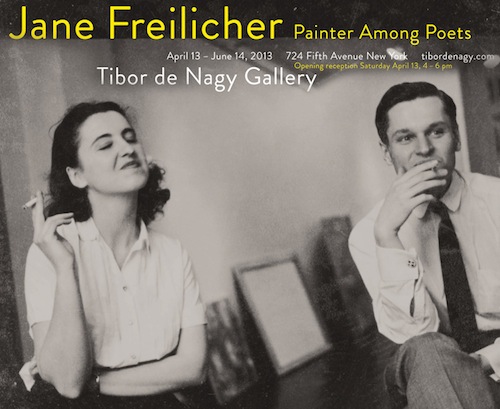 If you weren't able to make it out to Chicago this past weekend for our "Sitting Between the Sea and the Buildings" symposium, which celebrated Joan Mitchell's relationship to poets and poetry, our friends at the Tibor de Nagy Gallery are hosting an exhibition that looks at Jane Freilicher, another painter-friend to the New York School generation. The exhibition is already up and running (starting as part of National Poetry Month) and will chug along until June 14th. A little about the exhibition from Tibor de Nagy Gallery:
The exhibition will closely examine painter Jane Freilicher's pivotal role among the poets of the New York School, particularly John Ashbery and Frank O'Hara, along with Kenneth Koch and James Schuyler. Freilicher was in many ways a catalytic and consequential presence. Unlike Larry Rivers or Grace Hartigan, who engaged in direct collaborations with the poets, Freilicher played a subtler, more nuanced role, one that is difficult to pin down precisely.

It will be the first exhibition to explore in depth Freilicher's relationship to the poets and their work. It will comprise the artist's paintings and works on paper, including portraits of the poets, many on loan and exhibited for the first time. It will also include a selection of original letters between Freilicher and the poets, as well as films, book covers, and photographs.

Freilicher, now 88, was not only the poets' closest friend and confidante, she was also their muse. As has become clear in early correspondence, a selection of which will be exhibited for the first time, Ashbery and O'Hara regularly sought her advice for poems in process. Urbane, affectionate, and gossipy, the letters put the artist's legendary wit on display.
Make your way here to read more about the exhibition, and do try to make it.