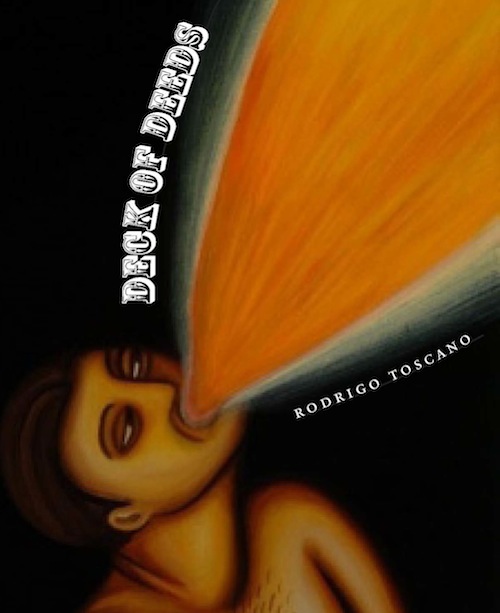 Poet and artist Jill Magi writes about Rodrigo Toscano's latest title, Deck of Deeds (Counterpath 2012), at her blog, noting that he "dials in to a wide range of frequencies we use to explain ourselves. It seems Rodrigo has been paying attention and listening for years, gathering the gestures of these anxieties." More about the book from Counterpath:
Deck of Deeds is comprised of seventy poetic prose image captions (without images) whose titles are inspired by the popular Latin American loteria card game. Written by a poet who logs in an average of ten thousand miles of air travel each month working as a union trainer and coordinator throughout the U.S., the "cards" reflect a dizzying array of cultural-geographic locations, each one acting as a scene-setter for highly dystopian portraits of "people" caught in a tangle of industry-specific "predicaments."
Magi writes:
An urge to hush. Follies laid bare. Shame. Sensation collectors. Culture vultures. Their fumblings. Their guilt. Ours. Mine. The language of this soupy mess.

Deck of Deeds—it's a deck, so shuffle these identities as you'd like because there is no hierarchy, only the chance you'll be one or the other—is sharpest when pointing out the unsubtle moral showcasing on the part of those out to do "good."

The phrase that goes something like this comes to mind: "and ye shall know them by their deeds." The very Protestant ideal of "doing." This is highly valued cultural currency: being a person who is not lazy. Who is an activist, who sets out to prove that they are not uncaring, not un-acting.

For example, I was aware that I impressed boys at parties in the 90s on the Lower East Side when I said, "I teach adult literacy in the South Bronx." So the good deed may also be a proxy for or preamble to good sex in the Protestant-inflected mind.

Also, the irony of the obsession with deeds, but confusion around "the worker." For example, I worked for Rizzoli Books on West Broadway back in the day, and one night as I was shelving books, bending down, unpacking boxes, a shopper began to make small talk with me, flirting, telling me about his antique business. Looking right at my armful of books, he asked, "And what do you do?"

Who am I in the Deck of Deeds landscape?

Take the plea of LAS HERMANAS:

[…] I want you to de-codify me—especially in the nether regions of "performance poetics."

Or LA IMAGEN, who is quoted and quotes—so much so that I couldn't keep track of where I should place quotes in transcribing—and so Rodrigo troubles "voice"—one of the many addictions of this deed-based world:

To actually feel yourself turned into re-pixellated portions of an anonymous force's self-image, switch-packeting you onto the internet just as you're about to declare a lyrically lush "love of humanity in general"—is something that could grab your attention, but also make for a pretty damn good "(doctored, distorted) 'weirdly gorgeous' poetic offspring" in need of a storyline.

Or LA EXPERIMENTALISTA:

Anywhere and everywhere, that's her thing now, to work it—whenever.

I could be any of the above. Maybe I have been or I am.
There's more beautiful prose where that comes from--Magi goes on to consider desertion as opposed to quitting, as well as Jackson Mac Low's 154 Forties, which we wrote up not too long ago (also Counterpath). Read it all here.