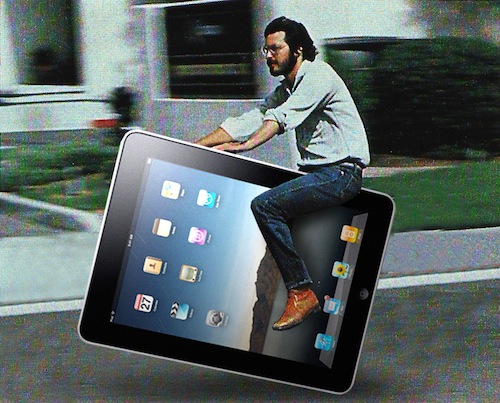 'Tis happening, friends! Not only are your favorite fiction and non-fiction books available in electronic formats—but now—your favorite books of poetry are rapidly becoming available in e-book form, as reported by The Associated Press in the Seattle Times.
Part of the challenge is the devices themselves, with screens varying in size and feel from Apple's iPad touchscreen to such smaller, standalone devices as Amazon.com's Kindle and Barnes & Noble's Nook. The e-book editions for Random House and other publishers will commonly include a reader's note that suggests the proper font size for a given device.

Some works are especially challenging, like Anne Carson's collection "Red Doc," in which poems begins at various points on a given page. Random House decided on a fixed format, according to McCloy-Kelley, who says that the text "cannot be enlarged without a pinch and zoom," meaning it can only be changed on a touchscreen. The verse of the late Greek poet C.P. Cavafy, who sometimes used extra spaces between words, proved so difficult to set accurately that English-language translator Daniel Mendelsohn settled for an e-book edition admittedly much different than what appeared on paper.

"You have to accommodate to a new medium in order to survive," says Mendelsohn, an award-winning author and critic. "I take the long view and say, `It was ever thus.' When the Greek tragedies were first written down, the lines were written straight across the page, with no distinction of different speakers and no stage directions. Now, you obviously want to identify the speakers. The original way is not necessarily the ideal."

Smaller presses have cited limited budgets as a deterrent to digitizing. But a top poetry publisher, Copper Canyon Press, last year began an e-book program funded by a grant from the Paul G. Allen Foundation. Copper Canyon has issued electronic versions of collections by former U.S. poet laureates Charles Simic and Ted Kooser, along with dozens of other works.

"One of the things we've done is put a note at the beginning of the book to show which is the longest line of the poem," said Copper Canyon's e-book coordinator, Amelia Robertson. "The note demonstrates what will happen if that line is broken up and suggests the best setting on the device for keeping the line intact."
Not a minute too soon as Jacket Copy recently reported that E-book sales almost doubled in 2012, rising to $3.04 billion." Read about the revolution at Seattle Times and Jacket Copy, respectively.