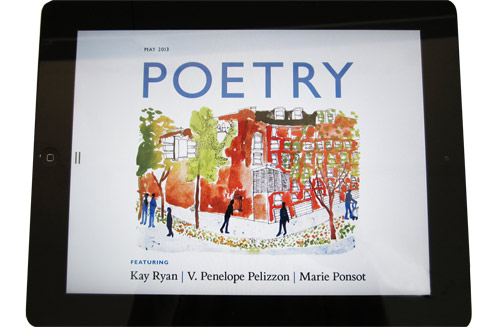 After years of tinkering and experimenting, and dreaming with my colleagues, I'm excited to announce that starting with the May 2013 issue, Poetry will be available through a digital subscription. For $29.99 per year, iPhone and iPad users can access a digital package that includes everything in the print magazine, the monthly Poetry magazine podcast, and a smartly-written monthly discussion guide, along with a few other bells and whistles. Individual digital issues can also be purchased at the Apple Newsstand for just $2.99.
By making the magazine available on iPad and iPhone, we hope to engage a new audience and also expand our accessibility for international readers. And we believe that the digital edition maintains the elegance of the print magazine while enhancing our readers' experience through expanded content. We're excited for this opportunity to make Poetry available to readers who enjoy the convenience and pleasure of using smartphones and tablets.
The May issue of Poetry, which kicks it all off, features new work from Linda Gregerson, Simon Armitage, Jessica Greenbaum, A.E. Stallings, Rick Barot, and Kay Ryan, among others, as well as a portfolio from 2013 Ruth Lilly Poetry Prize winner Marie Ponsot. There's also controversial prose from Amiri Baraka (who's interviewed on the included podcast), and an essay on poetry and photography by V. Penelope Pelizzon.
Our partner in this venture, 29th Street Publishing, is a small startup company who've worked with such folks as The Awl, and whose mission, like ours, is to bring new writing to light.
You can check out the digital edition of Poetry right now in the Apple Newsstand. A full version of the January issue is freely available, so you can see what it's like before you subscribe. Let us know what you think!
Don Share became the editor of Poetry in 2013. His books of poetry are Wishbone (2012), Squandermania (2007), and Union (2013, 2002). He is the co-editor of The Open Door: 100 Poems, 100 Years of Poetry Magazine (2012), and editor of Bunting's Persia (2012) and a critical edition of Basil Bunting's poems (2016). He...