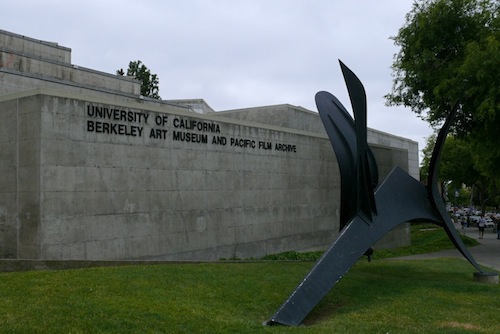 In December 2011, the UC Berkeley Art Museum/Pacific Film Archive introduced The Reading Room, a temporary space dedicated to poetry and experimental fiction, nestled within UC Berkeley's Art Museum and Pacific Film Archive ("BAM/PFA"). The Reading Room is curated by Ramsay Bell Breslin, a Kelsey Street editor. As explained by BAM/PFA's initial press release:
The space offers visitors the chance to take home a free book drawn from the overstock collections of several noted East Bay small presses, including Kelsey Street Press, Atelos Books, and Tuumba Press. Books and catalogs from Small Press Distribution (SPD) will also be available, thanks to Laura Moriarty and Brent Cunningham of SPD. In turn, visitors are asked to replace that book with one from their own collection.
Partially shielded by a sliding glass door, partially defined from the rest of the museum by this enclosure: the reading room is a small, well-lit spot located near the lobby of the museum. Inside, the space is surrounded by bookshelves covered with an array of small press books. Two armchairs on either side of a dark wooden table, with a lamp situated on top of it, to the right hand side of the room are the perfect space to peruse what's been provided by the space's organizers and what's been left behind by visitors.
The Reading Room will be open during regular gallery hours and features a comfortable reading area, a listening station featuring recordings of selected poets published by these presses, and silk-screen prints and original works on paper created by New York based artist George Schneeman in collaboration with poets Ron Padgett, Bill Berkson, and Lewis MacAdams. Guided and inspired by arts writer and poet Ramsay Bell Breslin and poet and UC Berkeley Professor of English Lyn Hejinian, BAM/PFA's new literary project invites visitors to look, listen, share, and read in The Reading Room.
The UC Berkeley Art Museum/Pacific Film Archive invites local poets to curate [email protected], a series of readings that take place in The Reading Room. This spring's series, curated by Sara Larsen, included readings by Wendy Trevino, Lauren Shufran, Zoe Tuck and Sirama Bajo. Sara Larsen's spectacular series concluded on Friday with a reading by two fantastic Bay Area poets: Cheena Marie Lo and Lindsey Boldt.
Larsen writes: "I curated this series to include women, women-identified, and gender-queer writers whose work plays with, defies, and redefines the poem. The work by these incredible writers can be both fierce and full of love, expert with form, but also with the ability to allow a falling-apart-ness. Any boundary is subject to question, liable to liminality. Enjoy."
For more info, visit: The Reading Room