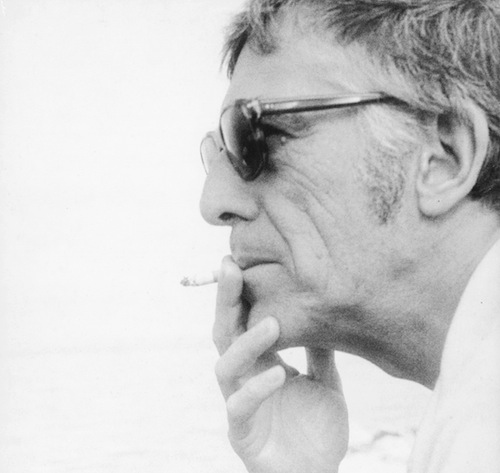 Bay Area poets participated in an amazing reading on Sunday by 93 year-old emerging poet Richard O. Moore (who's no stranger to us here, and here). He's the co-founder of KPFA (first listener-supported radio station in the U.S., 1949), a founding member of KQED-TV (sixth U.S. public station to go on the air, 1954) a filmmaker, and the director of the popular ten-part televised poetry series, USA: Poetry, which aired in 1966.
Richard O. Moore's first book of poems, Writing the Silences, was published by UC Press in 2010. His second book, Particulars of Place, is forthcoming from Omnidawn in 2015. Moore read alongside his friends and editors: Brenda Hillman, Garrett Caples, and Paul Ebenkamp.
"How uncommon, in the history of literature" Moore explained, "to have such wonderful friends."
Young poets involved in the Occupy Movement may relate to Moore's early experiences in poetry: he wrote alongside anarchist poets like Madelaine Gleason, Philip Lamantia, William Everson, Robert Duncan and Jack Spicer—who gravitated toward Kenneth Rexroth in the 1940s.
Moore stopped publishing early on in order to pursue a career in public media. He co-founded KPFA and became a founding member of KQED-TV. Along the way, he became an important cinema vérité filmmaker, directing such works as Take This Hammer (1963) featuring James Baldwin and the well-known 10-part series USA: Poetry (1966), which includes the only sound footage of Frank O'Hara.
Moore's reading began with an episode of USA: POETRY featuring Robert Duncan and John Wieners. After seeing Duncan's visage in countless still photographs—spooky to see him speak and move around in his San Francisco apartment, on the big screen! Duncan's friendly, ghostly countenance hovered over the contemporary San Francisco-Bay Area audience, reading and describing his practice; as in this photo, with Bay Area poets, Cedar Sigo and Alli Warren, in the foreground.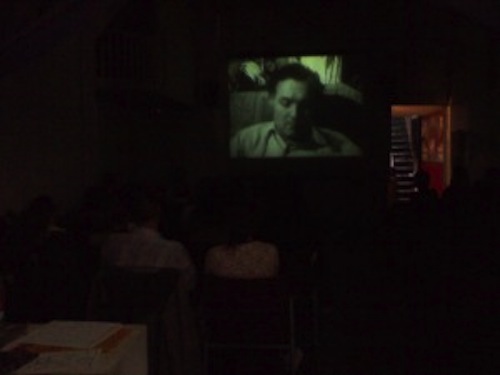 Later on in this USA:POETRY episode, John Wieners and Robert Duncan sat inside the Hotel Wentley—seen in a state of disarray just prior its demolition—while Wieners read from Hotel Wentley Poems.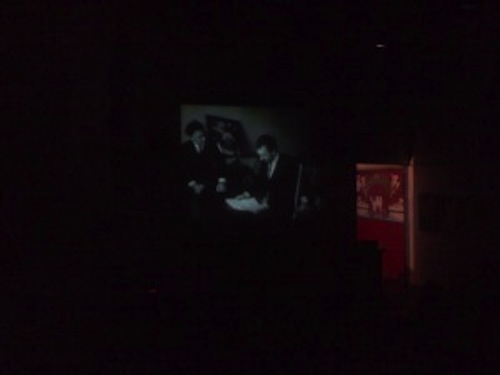 Moore screened the episode of USA: Poetry in its entirety, then Garrett Caples facilitated a Q+A with Moore and audience members, before closing the first half of the program with a poem of his own, dedicated to Moore. The second half of the event featured readings by Caples, Hillman, and Ebenkamp, and anecdotes about their experiences working with Moore. Moore closed the evening with selections from his work and later, Paul Ebenkamp read the title poem of Moore's forthcoming book, Particulars of Place, recently published in The Brooklyn Rail.
Magic!