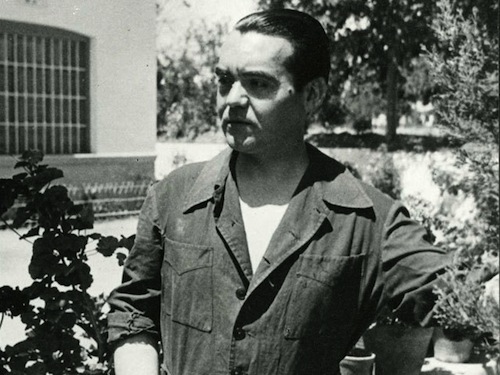 The life, death, (and after-life?) of Federico Garcia Lorca continues fascinate readers. Jacket Copy reports that Carlos Rojas's novel The Ingenious Gentleman and Poet Federico Garcia Lorca Ascends to Hell, translated by Edith Grossman, is now available for the first time in English. The book was original published shortly after Spain's return to democracy, following the death of dictator Francisco Franco. Jacket Copy describes the novel:
In Carlos Rojas' splendid and wildly creative novel... the dead writer watches his last, fateful days replayed in a private theater in the underworld.

Decades have passed, and Lorca is aware of his posthumous fame, and how his death torments those who outlived him. All he wants is to sleep, finally and forever, but instead he's trapped with the memories of his life, and of all the art and literature he created.

"Here and now, in the interminable wakefulness of my own death … I perceive with dismay the close correspondence between dreams and eternity in the warp where life and death are interwoven," Lorca says. "I would also affirm … that literature is the closest key to the labyrinth where the living and the dead are commingled."
And:
Woven into these existential musings is a faithful and evocative re-creation of Spain falling into the abyss of a bloody civil war. Lorca sees the real-life characters from history who arrested him and who tried to protect him. The result is a painfully human portrait of a country where people on both the right and left struggled to retain their sense of humanity and honor amid senseless violence. "If we must devour one another like wolves, I'd only hope that we don't lie to ourselves as men," says the official who holds Lorca's fate in his hand.
And with the publication of the third edition of Poet in New York from FSG this year, readers are certain to have some great, Lorca-themed summer reading (whether on the beach or through a Landscape of a Vomiting Multitude). Enjoy!