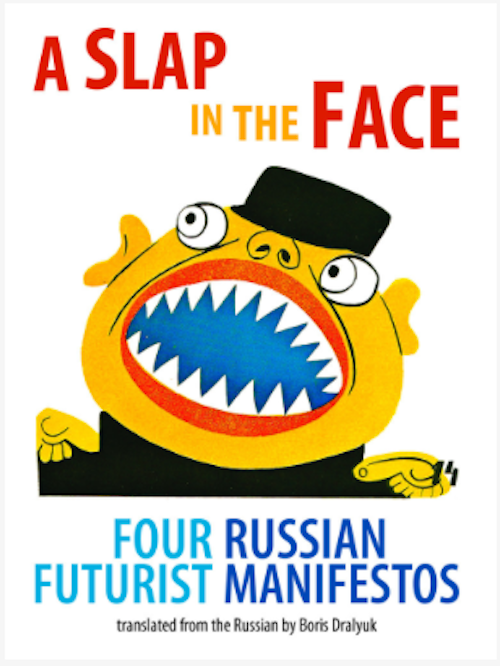 Folks all over the interwebs are getting their lists together for summer reads. If you make your way over to Insert/Blanc Press now, you can be sure to reserve your copy of A Slap in the Face: Four Russian Futurist Manifestos in time for some heady beach reading. This is the first in their "Manifestohs" series, edited by David Shook, and it contains Boris Dralyuk's translations of the classic manifestos A SLAP IN THE FACE OF PUBLIC TASTE (1912), the manifesto from A TRAP FOR JUDGES II (1913), GO TO HELL! (1914), and A DROP OF TAR (1915). A little more about the book:
The four manifestos collected in A SLAP IN THE FACE rattle with the verbal ingenuity and vitriolic verve of Russia's most accomplished Futurist collective—known as Hylaea and, for a brief period, the Cubo-Futurists. Organized in 1910-11 by the Burlyuk brothers, the group featured the wildly talented poets Velimir Khlebnikov and Vladimir Mayakovsky, as well as the master of "transrational" ("zaum") poetics, Aleksey Kruchenykh. The Hylaean program of total destruction and uncertain renewal offers an ominous parallel to the political turmoil of the Great War and the events of 1917. Dralyuk's annotations provide information on Hylaea's tumultuous history, its literary battles and short-lived alliances, and the biographies of its members.
And here's a little more about the series, which you might want to keep your eye on:
From the Russian Futurists to the Brazilian Modernists, from Hora Zero to the French Symbolists, Manifestoh! will commission and publish the best translations of the most enduring and influential manifestos of world literature. A celebration of the genre and an incitement to perpetual literary innovation, Manifestoh! continues and extends the Insert Blanc Press tradition of innovation and rebellion: slapping Pushkin in the face, cannibalizing Shakespeare, and—like the Spanish Ultraists—rebelling against the eunuchs of the status quo to break the hymen of the Future.