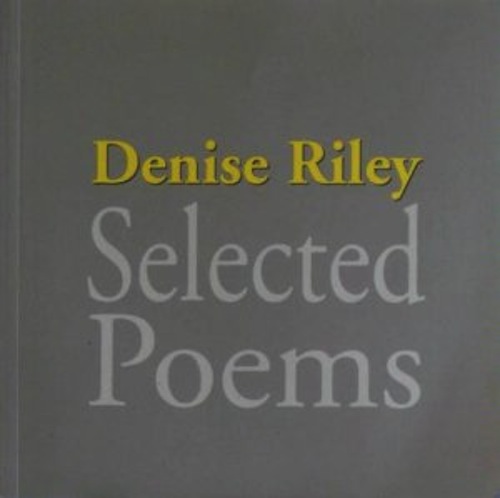 Whoever Lemon Hound's intern is, we're so grateful! Just posted yesterday is a piece by Lisa Robertson on Denise Riley, originally published in the Globe & Mail on September 8, 2001. Robertson looks at Riley's use of flowers and fauna. An excerpt:
They are girls in old holiday photo albums, and they are today's fine girls out sale-shopping, waiting to cross the street. They own floral frocks. They invent adjectives.

Girls and flowers repeat symbolically throughout the long history of the lyric poem. Among moderns, Riley's diction recalls that of William Carlos Williams, for whom "the sea/ which no one tends/ is also a garden." But for Williams, as generally in men's verse, the feminine image, for all its troubling and motivating beauty, is itself constrained to opacity, muteness — "blocked thought," in Williams's terms. Flora is a foil for the lyricist's voyaging.

Not so In 1970. Denise Riley is also the feminist philosopher who wrote Am I That Name?: The Category of "Women" in History, and, most recently, The Words of Selves. She makes the lyric into a reflexive space that flaunts its own gendered conventions with a slightly camp affection. Then she spins her little vessel, upsets its closure.

The brief poem keeps unpleating cognitively, but not toward a simplification, and in several directions. Beginning with a conventional metaphoric tone, it arrives at a dynamic pivot at the end of the third line, at the hinge of the semi-colon: "they . . . are anxious to swim; . . ."

The decorative bathers, until now floribund and frieze-like in their formal poise, become burningly individuated in their separate ambitions. It's as if, quick- ened, they twist round with a willful curiosity to meet the reader's gaze. The lyric image looks back: She knows something about transitions, and about courage and stubbornness and glee.

A sense of past time and retrospection suspends this vignette, but if it's at all nostalgic, then it is with a forked irreverence. Here nostalgia gives back to girlhood its own ironic philosophy. It leads us to recognize this first urgency toward identity in our own memories, and with the recognition comes a present freedom.

It lets us envision the long project of becoming a person as a mobile frieze that we and our friends are unwinding. We recognize also that the density of this drama has never changed, that the complexity of becoming only continues. As these girls pause in their vitality, they open for the reader a potent philosophical space. Is beauty good? Can lyrics think? Is gender fate? Is femininity ironical?