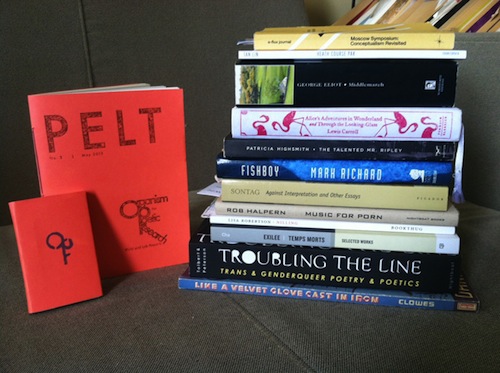 At Vice, Blake Butler has curated an array of summer reading lists from fiction writers and poets called "What Are These Freaks Reading?" Scope it out!
It includes a set of summer reads from poets, Claire Donato and Ben Mirov. Read their picks below!
Claire Donato (Author of Burial)

1. New Religious Movements: A Documentary Reader, by Dereck Daschke.

2. Look at the Bunny: Totem, Taboo, Technology, by Dominic Pettman.

3. Ghost, by Sarah Tourjee.

4. Foreign Correspondent, by Joanna Howard.

5. Unequal Before Death, by Marcelline Block and Christina Staudt.

6. The Organism for Poetic Research. PELT 2 + accompanying cassette tape.

7. Moscow Symposium: Conceptualism Revisited, Boris Groys (ed).

8. Heath Course Pak, by Tan Lin.

9. Middlemarch, by George Eliot.

10. Alice's Adventures in Wonderland and Through the Looking Glass, by Lewis Carroll.

11. The Talented Mr. Ripley, by Patricia Highsmith.

12. Fishboy, by Mark Richard.

13. Against Interpretation and Other Essays,by Susan Sontag.

14. Music for Porn, by Rob Halpern.

15. Nilling, by Lisa Robertson.

16. Exilée / Temps Morts: Selected Works, by Theresa Hak Kyung Cha.

17. Troubling the Line: Trans and Genderqueer Poetry and Poetics, TC Tolbert and Tim Trace Peterson (eds).

18. Like a Velvet Glove Cast in Iron, by Daniel Clowes.

Ben Mirov (Author of Hider Roser)

1. Strange Travelers, by Gene Wolfe. I like Gene Wolfe's writing a lot. He is one of my favorite writers, but I haven't really read many of his short stories. I've had this book for about a year, I think. I took it from my dad's bookshelf.

2. The Explosions, by Mathias Svalina. Mathias is a friend of mine. I really like his writing. I'm especially attracted to how imaginative it is.

3. Mellow Actions, by Brandon Downing. Brandon's work is always fun to read. I like to think of his poems as collages, but I'm not sure he would describe them that way.

4. The Naomi Poems: Corpse and Beans, by Bill Knott. My friend Clay just moved to Massachusetts. He was clearing out his books and had two copies of this, so he gave me one. I don't really know Bill Knott's work, but a number of poets have recommended him to me.

5. A Perfect Vacuum, by Stanislaw Lem. I've been meaning to read this book for a long time. My friend Clint found it in the Strand in New York, I think. It's a collection of fake book reviews.

6. Hogg, by Samuel Delany. I've always been a fan a Delany's writing, especially his older sci-fi, but also his nonfictional writing. I tried to read Hogg before. I was reading it and then I gave up reading books for a while, but I want to finish it.

7. The Wise Man's Fear, by Patrick Rothfuss. This is the second book in a trilogy about a legendary hero telling the story of how he became a hero. It seems like pretty straightforward fantasy writing so far. I'm sort of losing interest in it.